Art and the Journey Through
Darkness Into Light
Every artist dips his brush in his own soul, and paints his own nature into his pictures."
~ Henry Ward Beecher
Art enhances mankind's experience of the world and also the experience of our inner lives. Outwardly it has been used to show off great wealth, power and sophistication, and, in the case of King Louis XIV, his princeliness. There was also competition to build the most beautiful buildings which was often the result of ego but has been to our great benefit today. As we gaze upon art it can speak to us and feed a deep hunger in our soul, our longing for happiness. Art has had much to say inwardly. French painter Nicholas Poussin believed that painting was "mute poetry." Van Gogh had a deep person belief in the divinity of art and nature. Jusepe de Ribera, in his painting of Euclid, captured his moral ideal of 'Neglect of outward appearances signifies a devotion to intellectual pursuits.'
Art is beauty and what is beautiful has a high energy that draws us unto it to be lifted by it. Art that enters our soul brings us close to the soul of the artist and the magic of it comforts us. Art pieces can be a portals in the physical world to the inward world, similar spiritual experiences of life shared by all humans at any time in history.
Mankind's evolutionary journey through all the atrocities and the goodness that cause the cycle of darkness and light that transforms us, is mirrored in art. We are drawn to the places artists create in the physical world because through them we escape to another place and find peace and rest, but only for a moment. Art gets us through while our stories remain unfinished and the dreams are still up ahead. These beautiful gifts are not just a record of the past. To the conscious and unconscious they have held the future within them, creating visions and enabling our hearts to have great power to reach beyond what is and change our world.
Art has many faces — paintings, music, sonnets, clothing — and they all mirror the negative and positive vortex to a higher place of existence. It may be that the clearest physical picture of our journey out of the darkness of hell on Earth into the light of heaven of Earth is seen in the history of architecture.
Human beings physically look upward to survive and they find that something happens that is beyond the physical world. The ancients found answers to survive their simple lives. They wanted heaven to come to Earth and remove their struggles. They kept gods happy so they could live and prosper. The great ziggurat at Ur, Iraq, built in the 21st century BC, was 'a stairway to heaven' and was the greatest artifact at the time that humans could build to honor their gods and invite them down the great brick steps into their city, hopefully, making Earth and their city fruitful. The Greeks let their mountainous terrain be the climb to heaven. The Mayan and Southeast Asia's mountain-temples were to reach for something beyond and the Mayan architecture aligned humanity with the stars of heaven. As we evolved, architecture became a 'self-conscious act of building with sense and artistry, as we began to house gods, kings, priests and soldiers who would teach, provide for, protect and comfort people. In the flat terrains of the city, the vaulting of the Beauvais Cathedral was the leap toward heaven. We look up and we reach up and as we experience tall buildings, high ceilings, domes and steeples our human spirits are lifted to a higher consciousness.
Everything mankind has done, from our simple, unevolved past to the much more sophisticated and evolved present, is to figure out what we have needed each step of the way in order to survive, be happy and live in a beautiful heavenly place. And as we uncover the architecture of the past and observe it in the present, we learn the culture, politics and political economy, beliefs, desires and goals of each group of people making their concept of heaven on Earth according to the level of their minds' evolution.
Architects are masters of light.
"The story of architecture is one of remarkable human endeavor, one of the means through which we try to create order and make sense of our endlessly intriguing, yet messy world...
"It is the greatest visible means by which we celebrate our wealth and health...and a form of staircase to heaven. From ancient times — about eight or nine thousand years ago — humankind began reaching for the sky with extraordinary structures that resemble either holy mountains (pyramids) or early lightening conductors (towers,steeples) up which their priests could ascend to meet the sky-gods or down which , presumably, the gods could step to Earth.
"The first real works of architecture we know of are temple. This makes sense. Ever since the Bronze Age when the male (or sky) gods triumphed over the prehistoric earth goddess(es) in most parts of the world, mankind has attempted to connect with the eternal and to build in harmony with the cosmos. The fact that ancient temples are designed to line up with equinoxes and eclipses and other movements and patterns seen in the start would come as no surprise. Mankind wanted to tune in with the mind that created the universe."
Mankind has always sought God or gods first to survive, and then to be happy and live in a beautiful environment. The ancients believed that a connection to the gods would make land or sea fruitful.
The towering ziggurat (stepped pyramid) in Sumaria "would have been visible for miles across the pain, a sign to farmers in outlying irrigated pastures that their priests were intervening with the gods on their behalf...
"Stonehenge, ...an observatory or temple of sorts, was probably the mainspring of a giant theodolite or clock that, connected to a network of megalithic stone circles set around Britain, enabled our ancient forbears to read the stars and thus navigate their ancient trade routes successfully.
"Architecture has always been something of a religion and architects a kind of priesthood...
"And, just as great world religions tend to get watered down and split into sects and warring factions with the passing generations, so has architecture."
Kings took on the roles of being gods protecting and providing for the people and grand palaces and tombs where built for them.
"Sit quietly in Le Corbusier's pilgrimage chapel at Ronchamp and feel the light directed so knowingly, and carefully, through slits and chutes, windows and shafts: the every-changing light not only animates and celebrates the architecture, but sends gentle shivers down the spine of the observer.
"The moon and the stars played equally important roles in the artistry and planning of ancient temples and of Gothic cathedrals Imagine the play of moonlight, or of the start, on the sheer and polished surfaces of the Great Pyramid of Khufu. Their light would have set up a celestial dance in tune with the rhythms of the architecture they played upon. As for their planning the design of Egyptian pyramids and Gothic cathedrals was aligned with starts and constellations...
"At is best, architecture should lift our spirits, while serving as guide to our ambitions, vanities, our needs, our gods, and our dreams."
~ Jonathan Glancey, Architecture
When churches with high ceilings were first built, the windows had to remain small so the walls would be strong enough to support the ceilings. As their skill became more sophisticated, they were able to support the ceilings other ways and the windows could be made large letting a lot of light into the building. As we meditate we look up and this physical activity organically raises our frequency, moving us beyond, evolving us to higher levels of consciousness.
The story of the Tower of Babel, possibly architecture inspired by the ziggurat, was a lesson on connecting to God the wrong way and God's separation of us began a path that would lead to our consciousness being awakened to figure out the right way to connect and be in heaven. It's not outward steps up a mountain, or bricks and stones built high into the sky that brings heaven here. It's an inward path to higher levels of consciousness and clearer truth that enables us to know God and create heaven on Earth.
Mankind has been passing through an evolutionary path of worldviews — religious, modern, postmodern, integral — out of seeing darkly to finding the pieces in each place that are put together to have clearer understanding about the deeper things of life. Art reflects this process. Artists combine styles from everywhere. The Castillo Monumento Colomares, a castle in Spain honoring Christopher Columbus, features a mixture of Moorish, Byzantine, Romanesque and Gothic architecture styles. We now live in a modern world where all the styles are mixed together just as major cities are filled with all the peoples of the world. This speaks of the evolutionary path to the truth and the ultimate heaven on earth we belong in, that is built from the beliefs and beauty that is found everywhere in the world and that have been passed down through history.
"We seem divided between an urge to override our senses and numb ourselves to our settings and a contradictory implies to acknowledge the extent to which our identities are indelible connected to , and will shift along with, our locations. An ugly room can coagulate any loose suspicions as to the incompleteness of life, while a sun-lit one set with honey-colored minestrone tiles can lend support to whatever is most hopeful within us.
"Belief in the significance of architecture is premised on the notion that we are, for better or for worse, different people in different places — and on the convection that it is architecture's task to render vivd to us who we might ideally be.
"We are sometimes eager to celebrate the influence of our surroundings…We accept with gratitude the power that a single room can possess.
"But sensitivity to architecture also has its more problematic aspects. If one room can alter how we feel, if our happiness can hang on the colour of the walls or the stage of a door, what will happen to us in most of the places we are forced to look at and inhabit." ~ Alain de Botton, The Architecture of Happiness
"The Architecture of Happiness is a dazzling and generously illustrated journey through the philosophy and psychology of architecture and the indelible connection between our identities and our locations.
"One of the great but often unmentioned causes of both happiness and misery is the quality of our environment: the kinds of walls, chairs, buildings, and streets that surround us And yet a concern for architecture is too often described as frivolous, and self-indulgent. Alain de Botton starts from the idea that where we are heavily influences when we can be, and argues that it is architecture's task to stand as an eloquent reminder of our full potential."
"Art enables us to find ourselves and lose ourselves at the same time."
~ Thomas Merton
Traveling and looking at art and architecture, seeing all the beauty in the world, is a spiritual experience "that creates a new identity." It has given artists new ideas and energy for creativity. "In many ways you unlock who you are through the places you experience." "Taking in different people and places gives you more stories and more substance."
~ "StoryBooked"
Some of Mankind's Beautiful Portals
to Heaven That Are Mirroring the
Levels of Our Spiritual Evolution
Out of Darkness Into the Light of Truth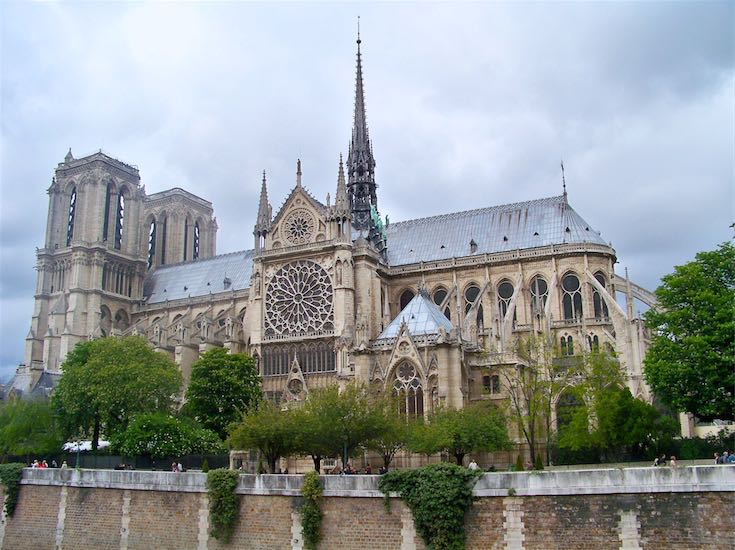 Photo of Notre Dame Cathedral, French Gothic architecture, by Larry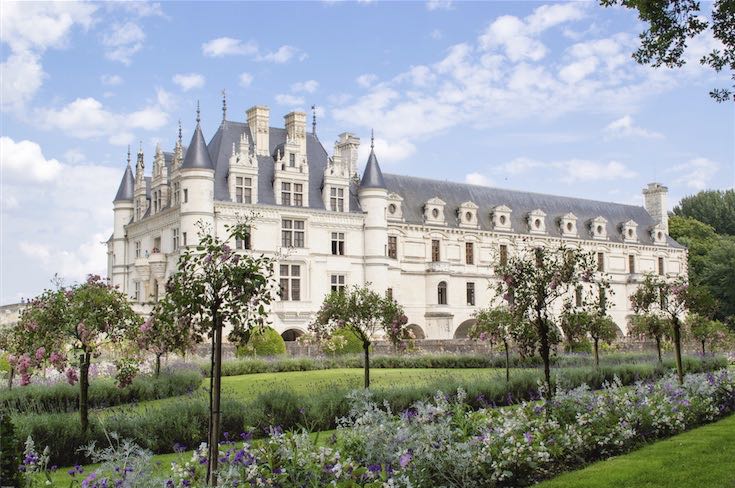 Photo of the Chateau de Chenonceaux, French Mannerist architecture, by TWojtowicz
A French architect studies in Italy and returns to transition France from the Dark Age's nightmarish Gothic architecture, with its gargoyles to ward off evil, to the golden Renaissance architecture.
Photo of the Mask Temple at Lamanai, Belize, Central America, by Bernt Rostad, Creative Commons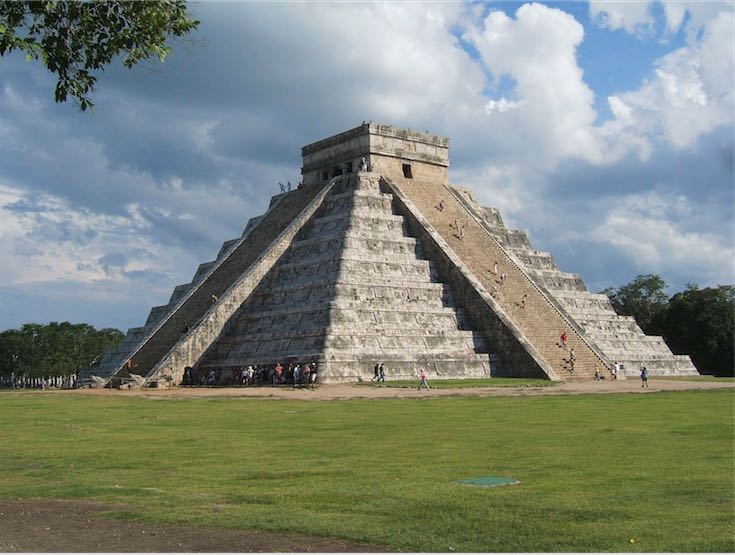 Photo of the Mayan pyramidal Temple of Kukulkan, Chichen-Itza, Mexico, Central America, by Jason Morrison, Creative Commons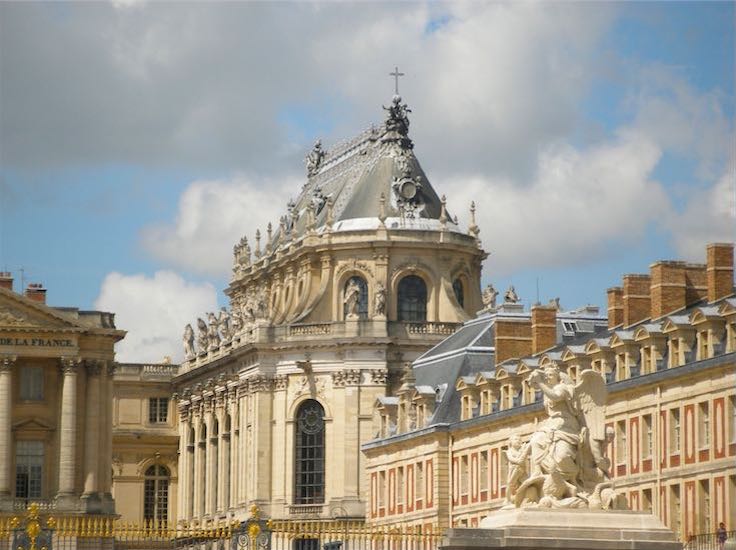 Photo of Palace of Versailles, French Classical architecture, by Jérôme S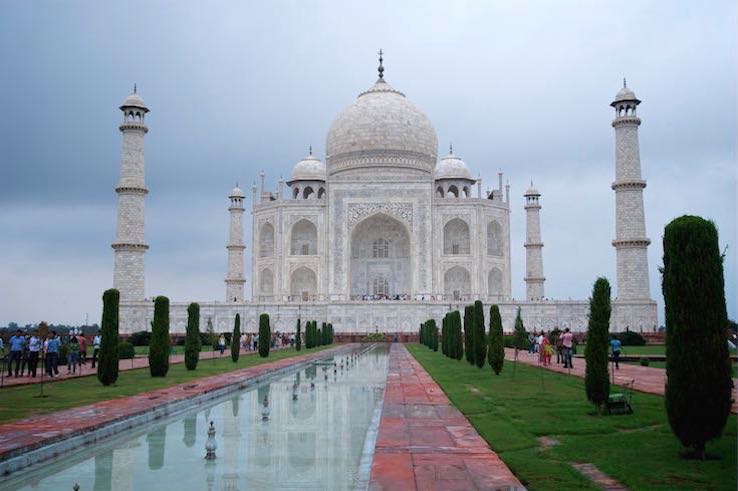 Photo of Taj Mahal, India, Indo-Islamic (Mungal, Iranian) architecture, by Chris Jupin, Creative Commons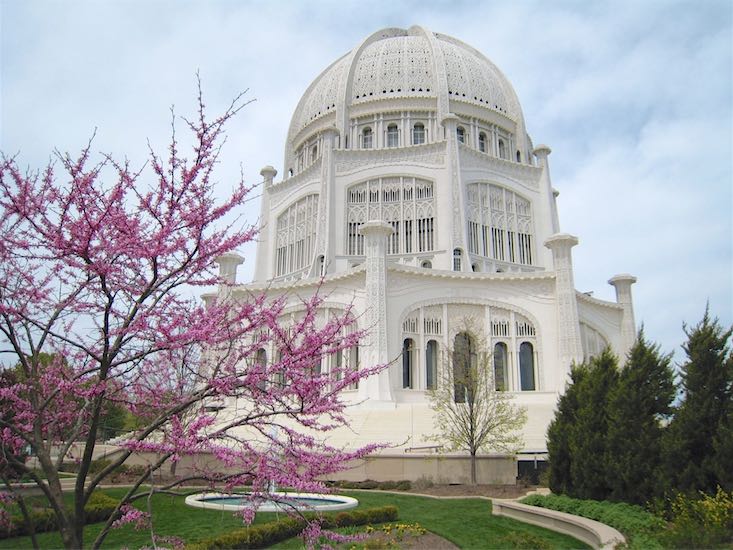 Photo of Baha'i Temple, Wilmette, Illinois, Bahai architecture, by Matt Galligan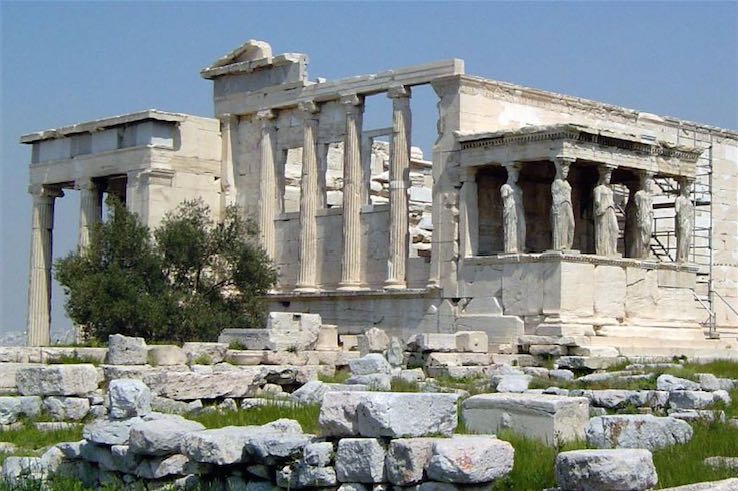 Photo of the Erechtheum on the Acropolis, Greece, ancient classical architecture, by Juan Manuel Caicedo Carvajal, Creative Commons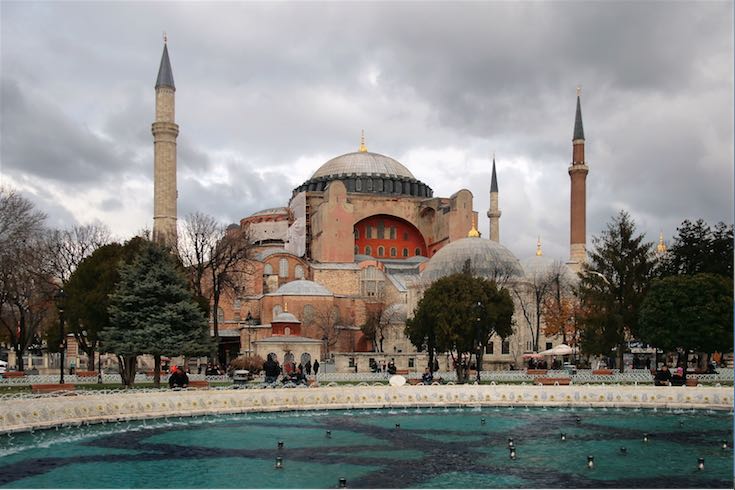 Photo of Hagia Sophia, Istanbul, Turkey, Byzantine architecture, by Jorge Franganillo, Creative Commons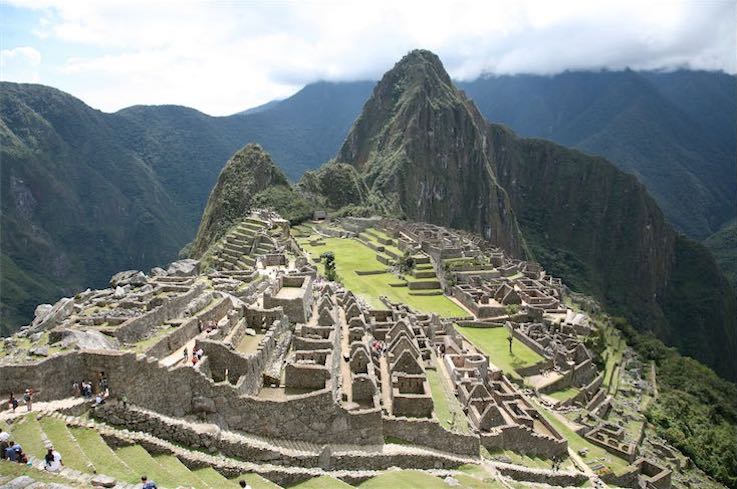 Photo of Machu Picchu temple, Peru, South America, by Bruno Girin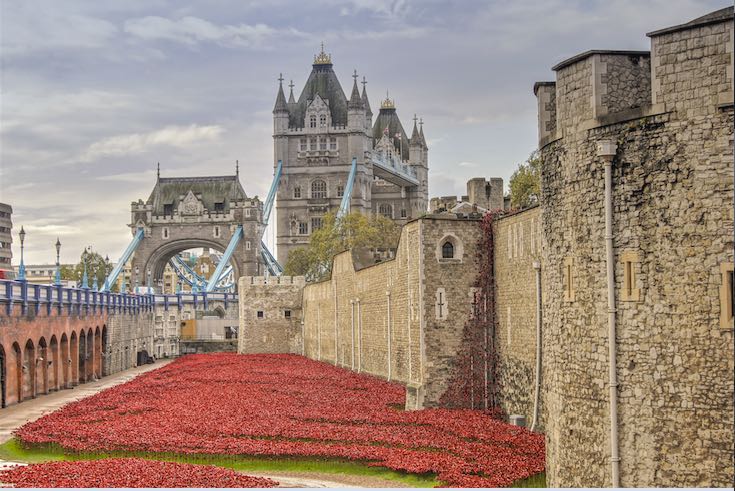 Photo of Blood Swept Lands and Seas of Red poppies and the Tower of London, by Derek Winterburn, Creative Commons
Blood Swept Lands and Seas of Red was a work of installation art placed in the moat of the Tower of London, England, between July and November 2014, commemorating the centenary of the outbreak of World War I. Wikipedia
Created by artists Paul Cummins and Tom Piper, 888,246 ceramic poppies progressively filled the Tower's famous moat between July to November 2014.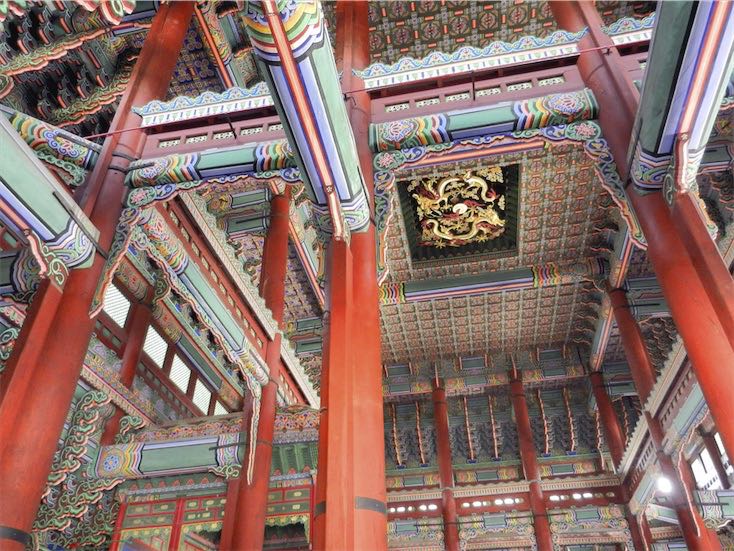 Photo of Gyeongbokgung Palace interior, Seoul, Korea, by Steve Boland, Creative Commons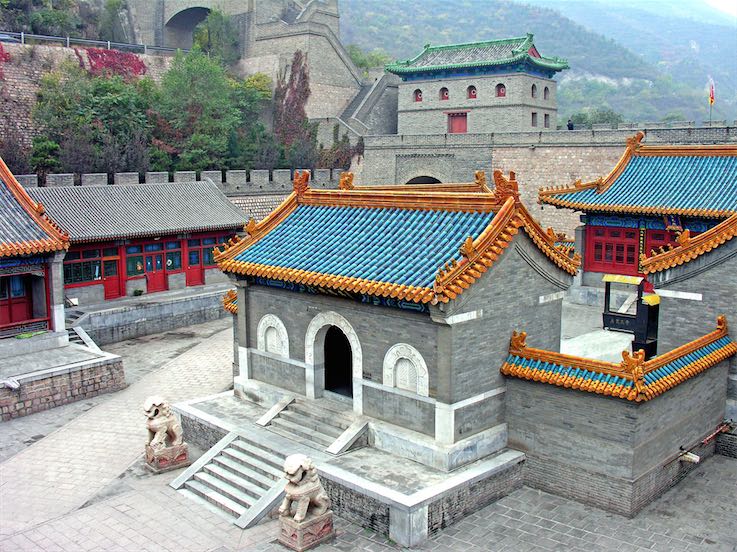 Photo of Zhen Wu Temple, China, by Dennis Jarvis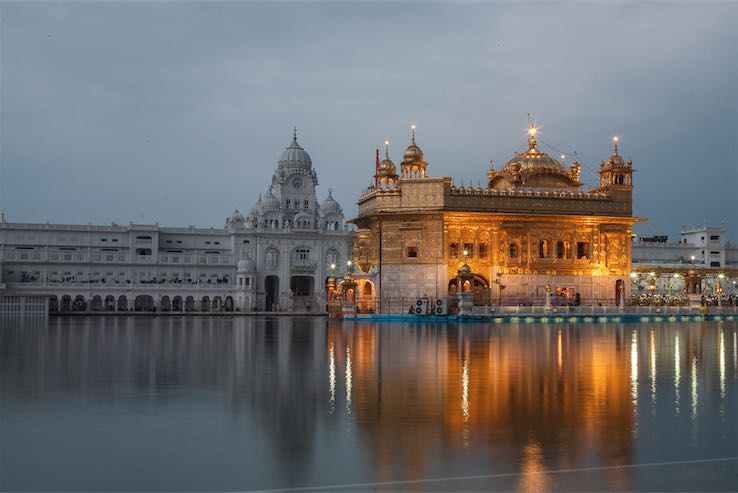 Photo of Golden Temple, India, Sikh architecture, by sandeepachetan, Creative Commons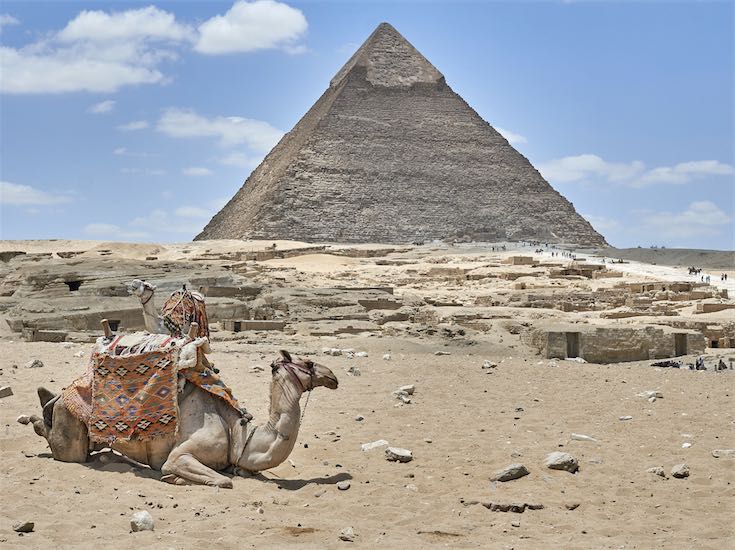 Photo of Pirámide de Kefrén, Giza, Egypt, Africa, by Edgardo W. Olivera, Creative Commons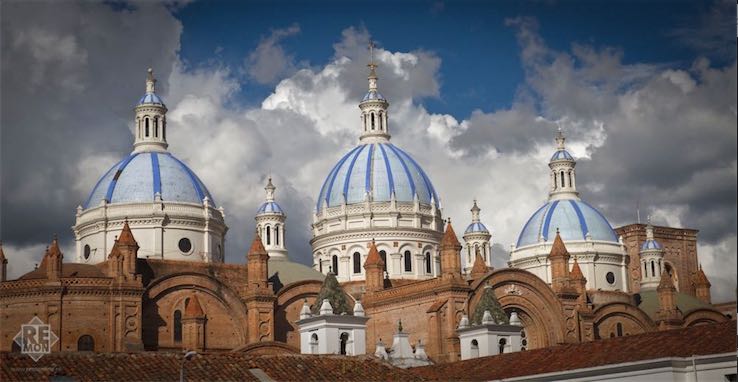 Photo of Cuenca Cathedral, Ecuador, South America, Sikh architecture, by Remon Rijper, Creative Commons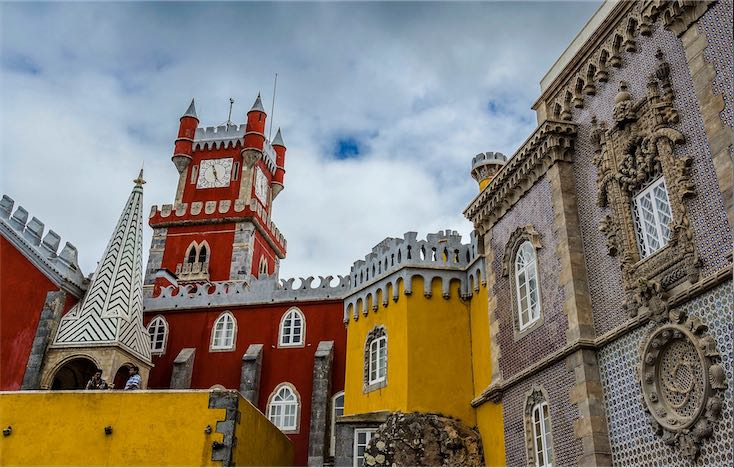 Photo of Palace da Pena, Portugal's answer to Ludwig II's Neuschwanstein Castle, Romanticist 'fantasy' architecture, inspired by Morrish, Manueline and Gothic motifs as well as Bavaria's fairytale castles, by Guillén Pérez, Creative Commons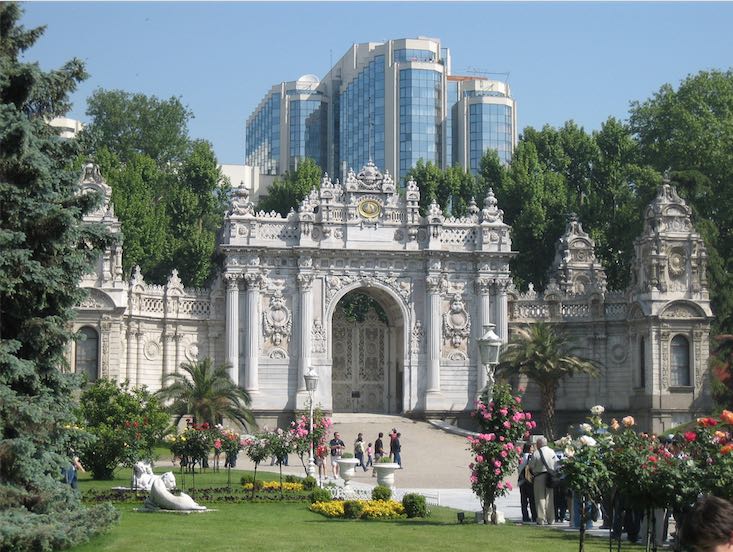 Photo of Dolmabahçe Palace, Istanbul, Turkey, Baroque, Rococo, Neo-Classical, Ottoman architecture, by pelennor, Creative Commons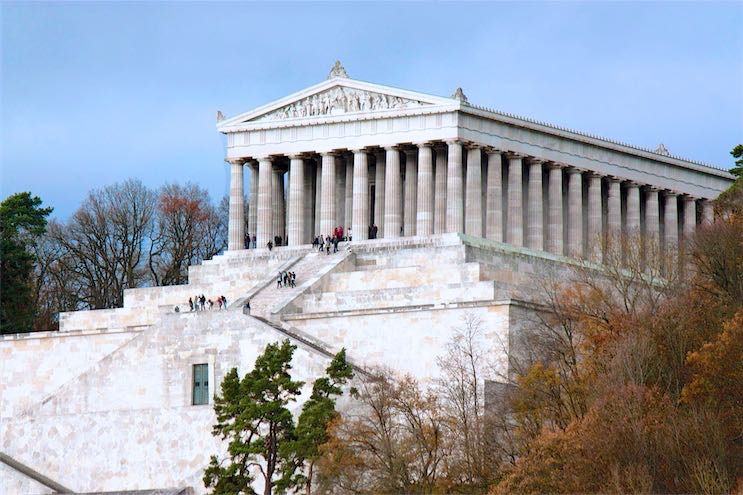 Walhalla, Bavaria, Neo-Classical, Greek Revival architecture, by Rexness, Creative Commons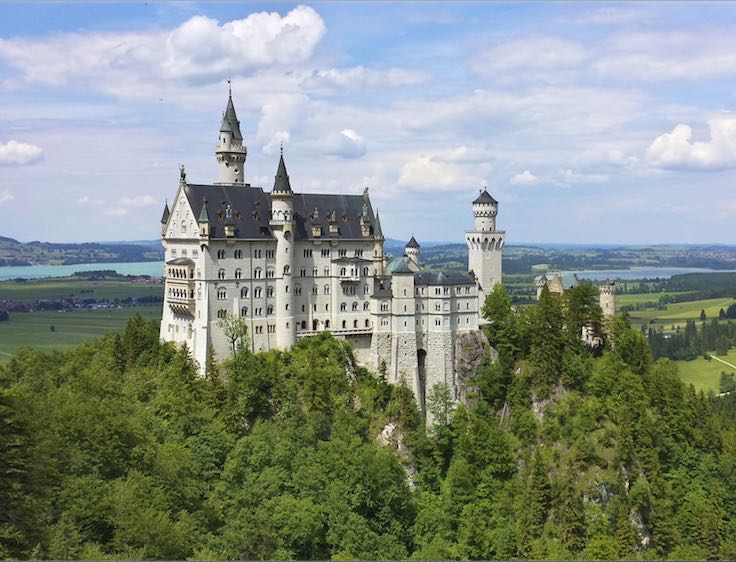 Photo of Neuschwanstein Castle, Bavaria, Germany, fanciful Romanesque Revival architecture, by tgidenver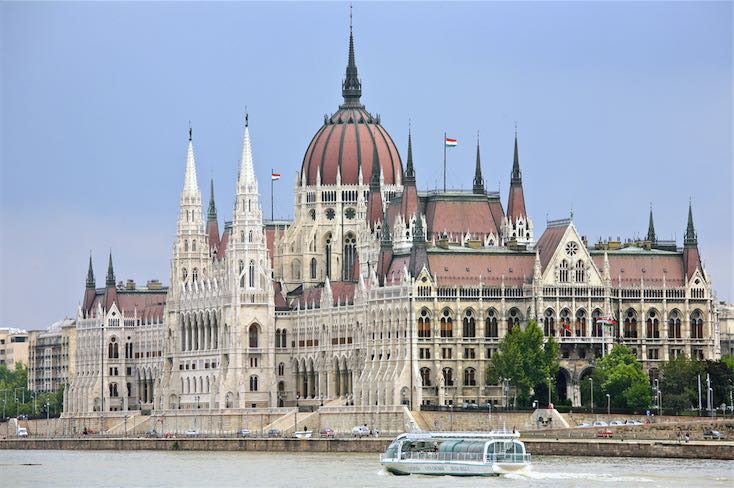 Photo of Hungarian Parliament Building, Budapest, Neo-Gothic Architecture, by Alex Proimos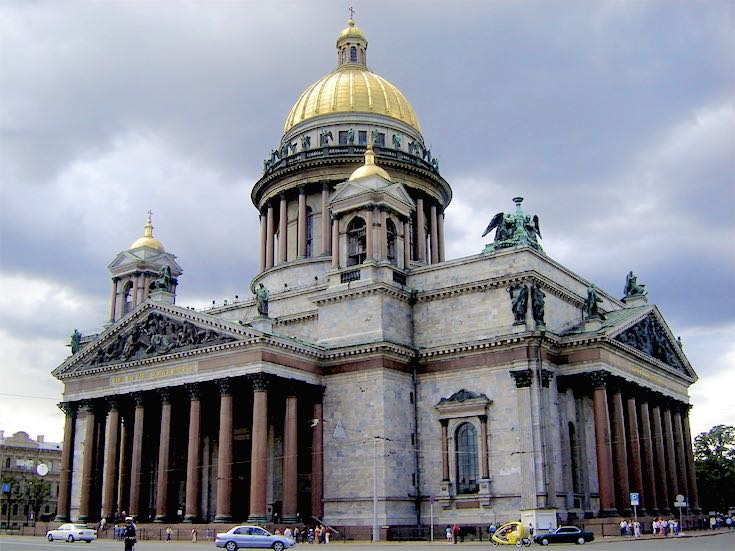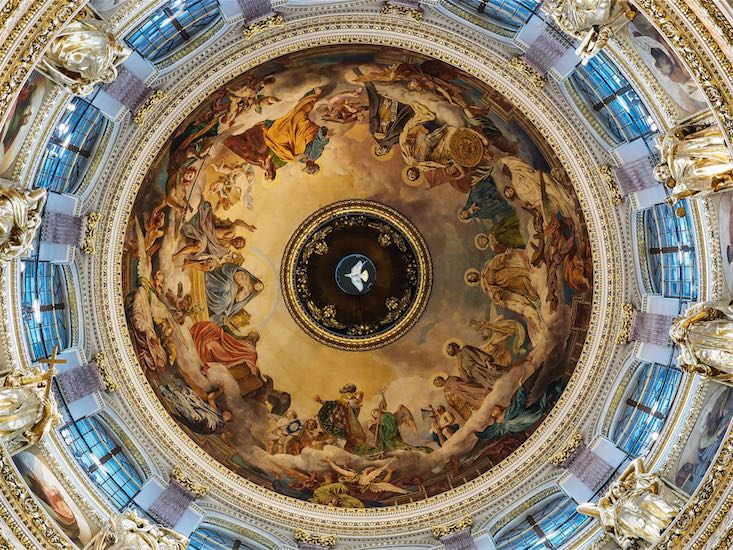 Photo of St. Isaac's Cathedral in St. Petersburg, Russia, Classical Revival architecture, by tetrabrain
Photo of dome of St. Isaac's by brando.n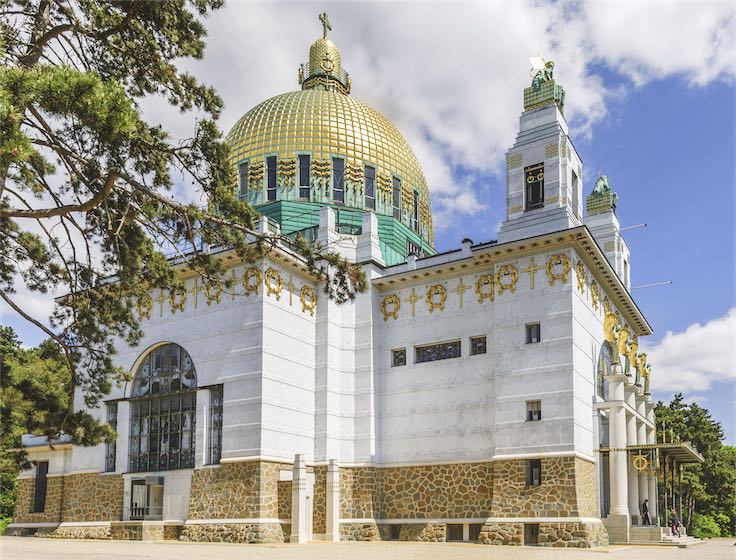 Photo of Steinhof Church, Vienna, Austria, built in the Industrial Age, an time of nostalgia, decorated with Art Nouveau, by Martin Schachermayer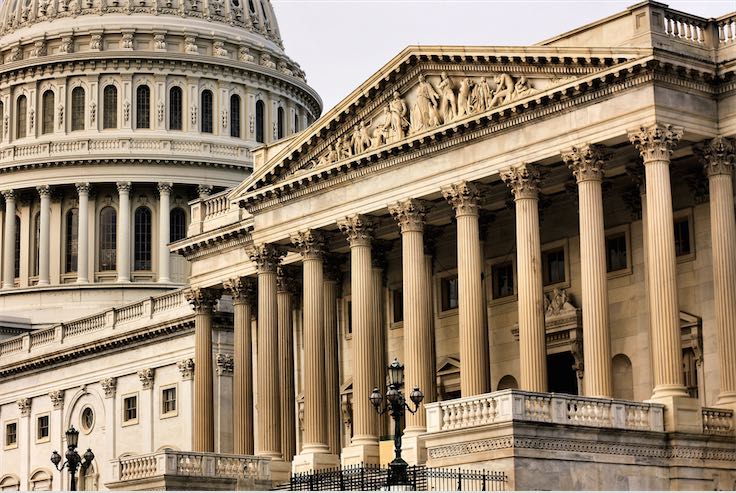 Photo of U. S. Capitol, Washington D. C., Neo-Classical, Palladian Style architecture, by Phil Roeder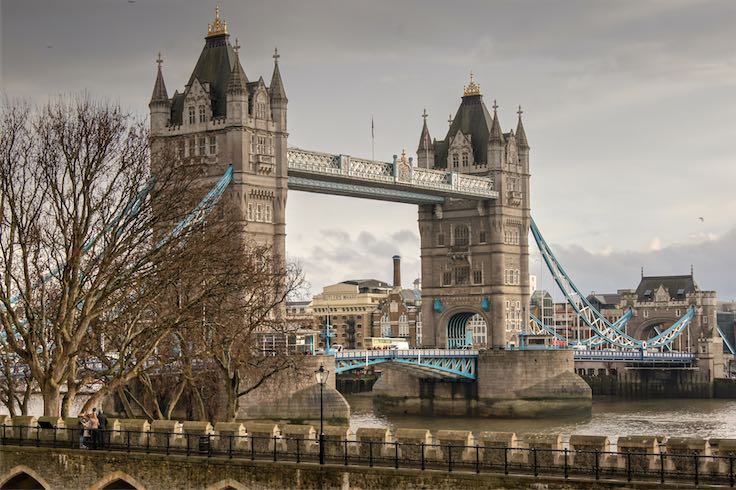 Photo of Tower Bridge, London, England, Victorian Gothic architecture, by Derek Winterburn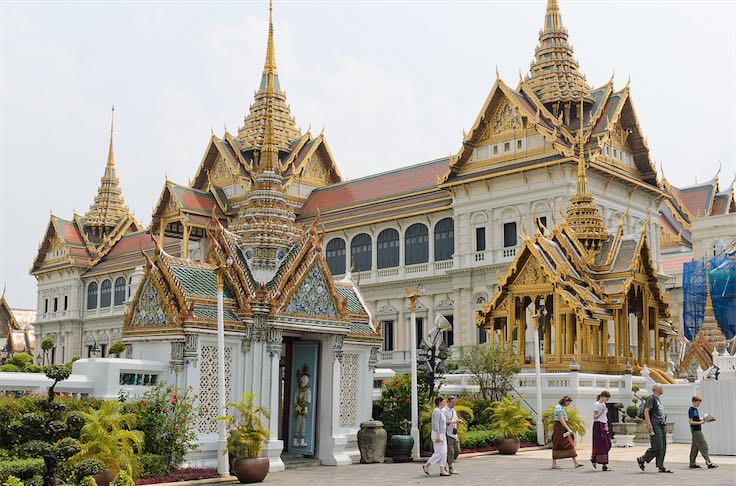 Photo of Grand Palace in Bangkok, Thailand, by cb_agulto, Creative Commons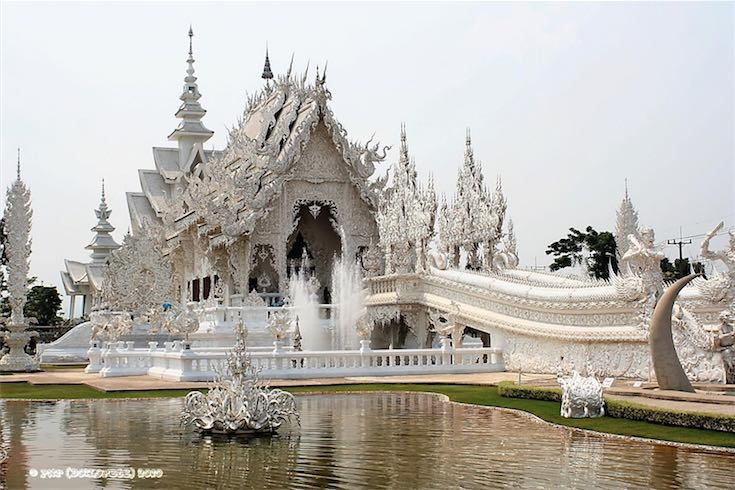 Photo of Wat Rong Khun, Thailand, by ol'pete', Creative Commons
Photo of Vatican City, Italy, Italian Renaissance architecture, by Elliott Brown, Creative Commons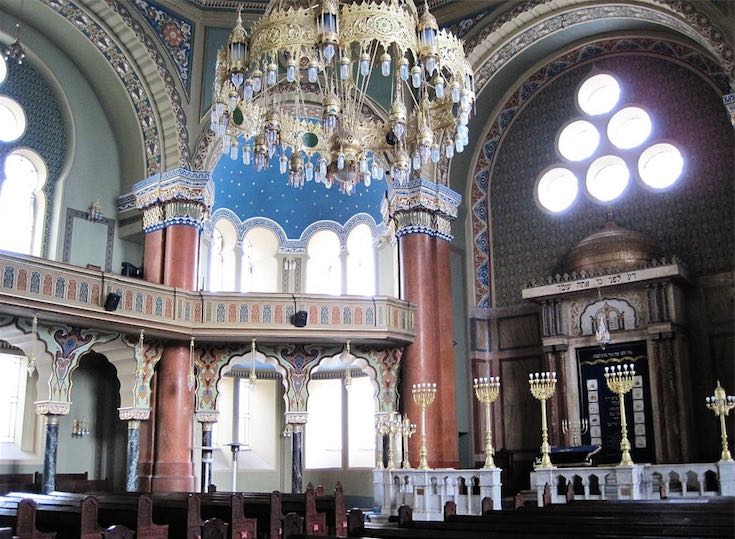 Photo of Synagogue in Sofia, Bulgaria, by Jordi Escuer, Creative Commons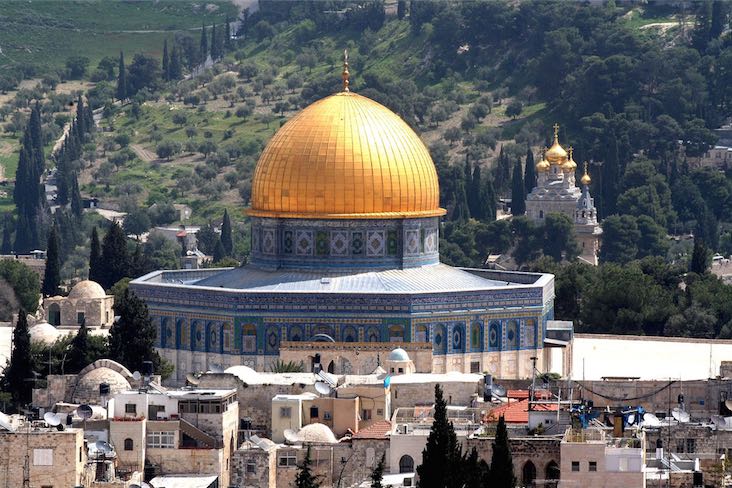 Photo the the Temple of the Rock in Jerusalem by Brian Negin, Creative Commons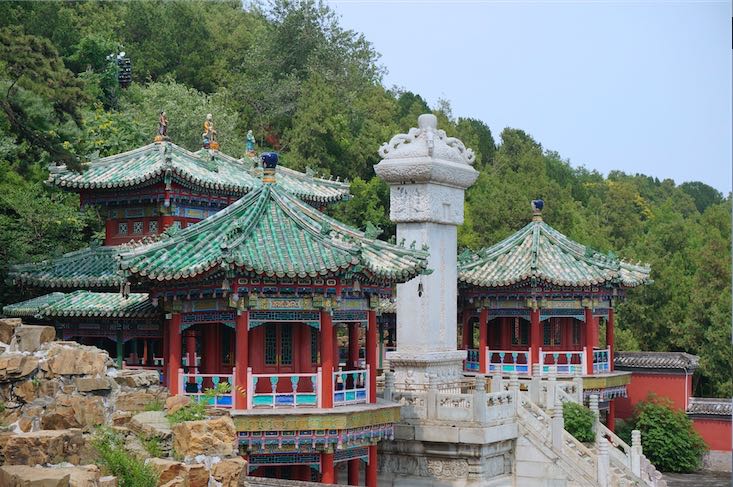 Photo of Summer Palace in Beijing, China, by Mulligan Stu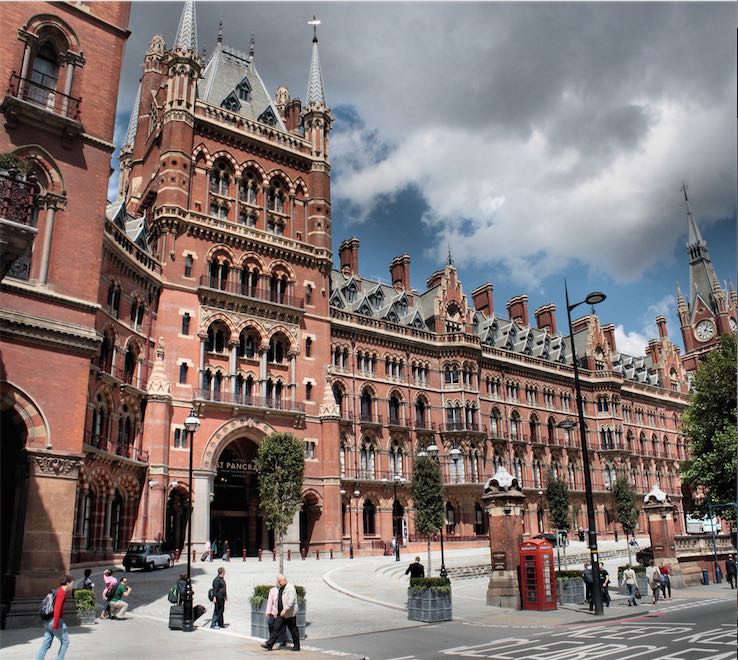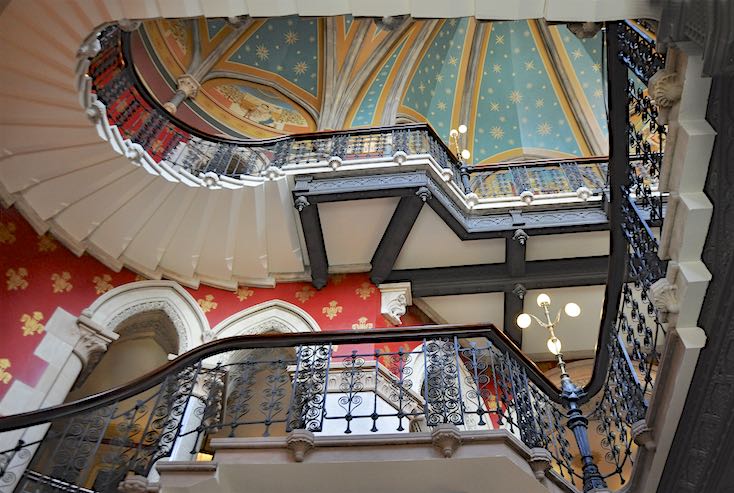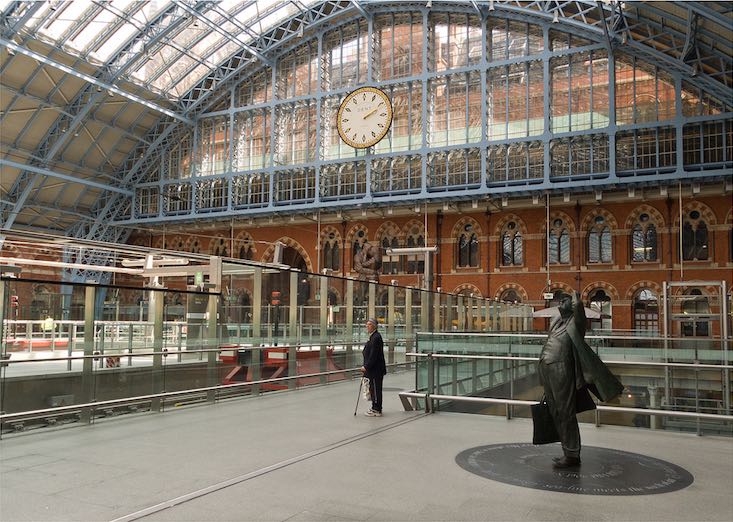 Photo of St. Pancras Renaissance Hotel and St. Pancras International Station, London, England, Gothic Revival architecture and architecture of the Machine Age, by Robert Cutts
Photo of interior of St. Pancras Renaissance Hotel, London, England, Gothic Revival architecture and architecture of the Machine Age, by Helen Simonsson
Photo of inside St. Pancras International Station, by Phil McIver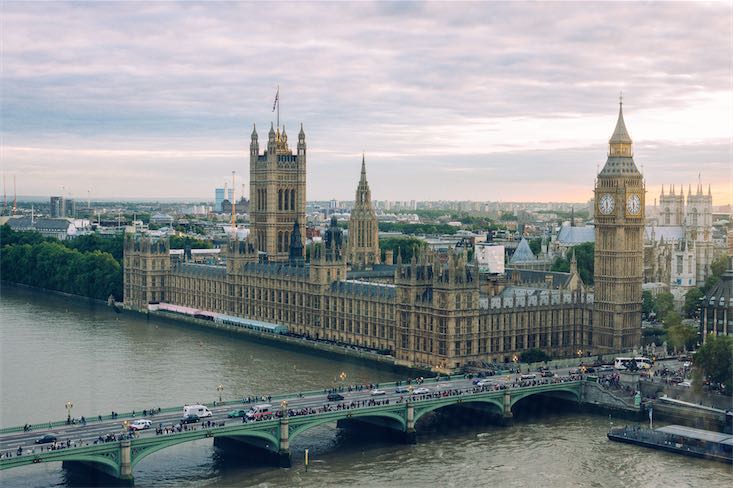 Photo of the Palace of Westminster, England, Gothic details on the Classical body, by zeljkoo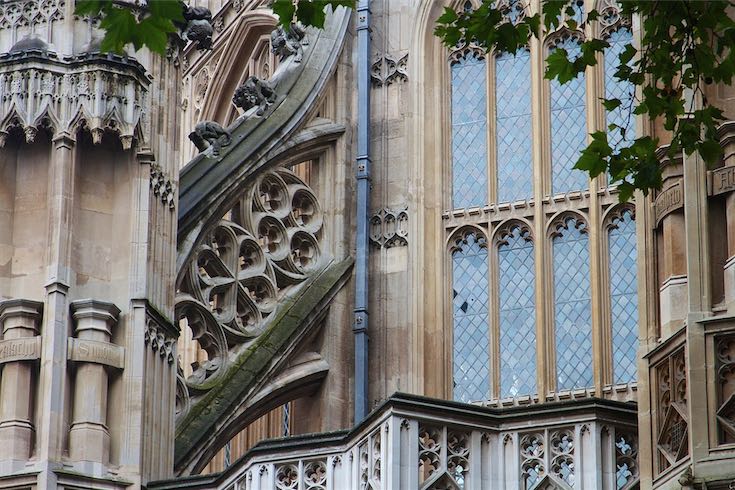 Photo of a flying buttress and the Gothic details of Westminster Abbey by Brent Miller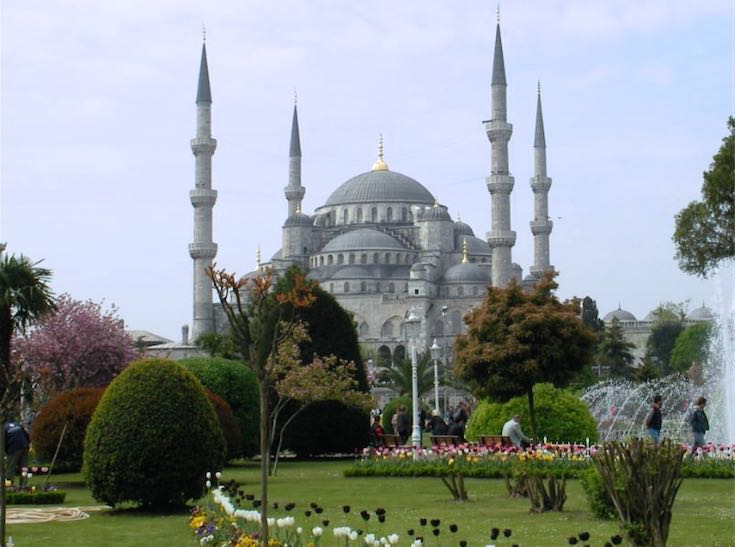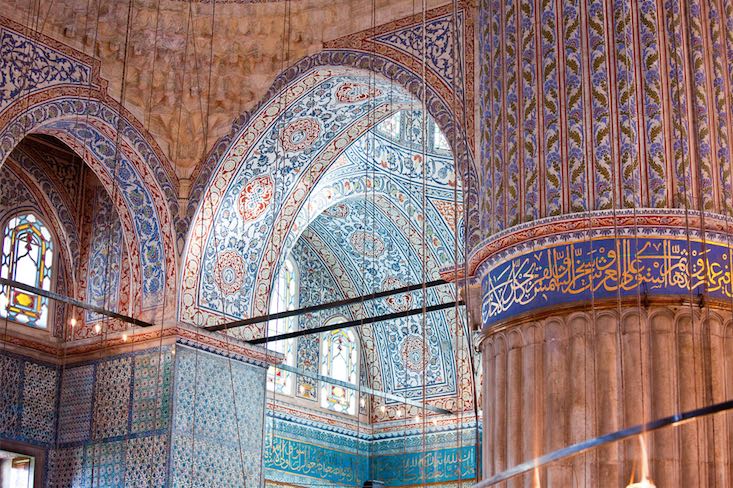 Photo of the Blue Mosque, late classical Ottoman architecture, Istanbul, Turkey, by Nick Wadge, Creative Commons
Photo of inside the Blue Mosque by Patrick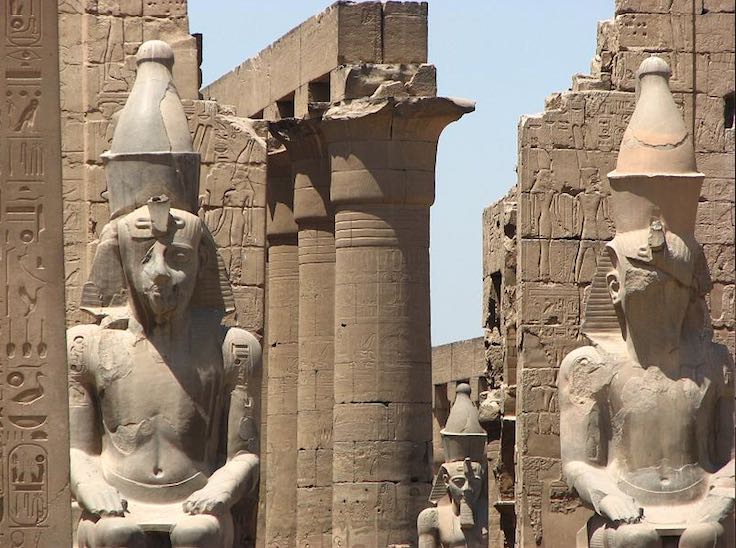 Photo of Luxor temple, Egypt, by reibai, Creative Commons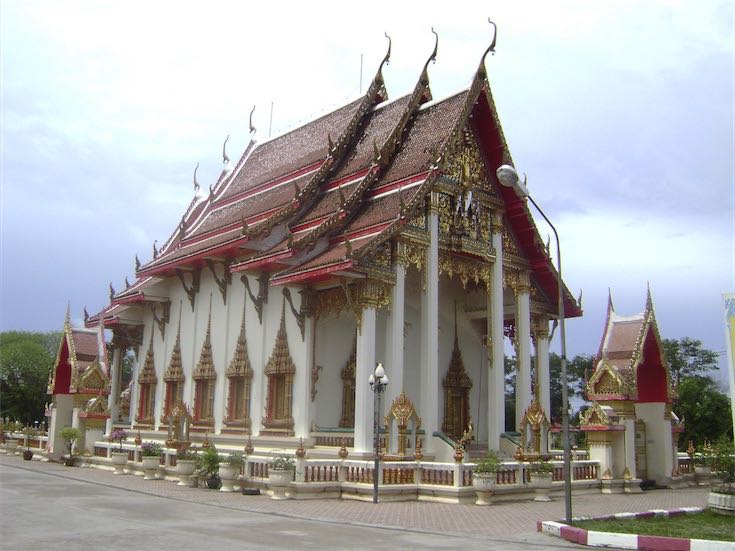 Photo of Wat Chalong, Phuket, Thailand, by Holiday Point, Creative Commons
Photo of The Pilgrimage Church of Wies, Bavaria, Germany, Rococo architecture, by Rita Willaert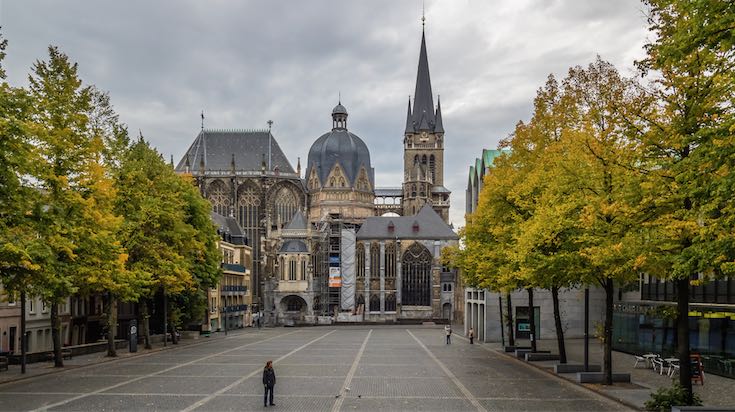 Photo of Aachen Cathedral and Palatine Chapel, Germany, Carolingian Renaissance architecture, by Frans Berkelaar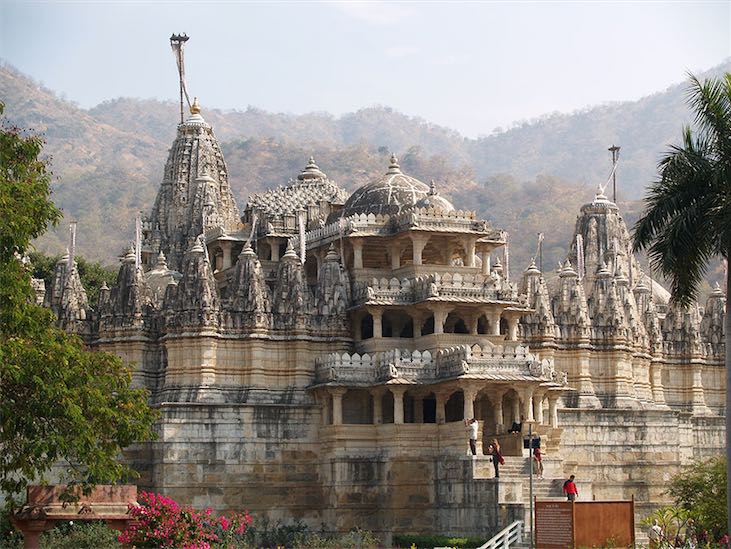 Photo of Jain temple in Ranakpur, India, by Evgeni Zotov, Creative Commons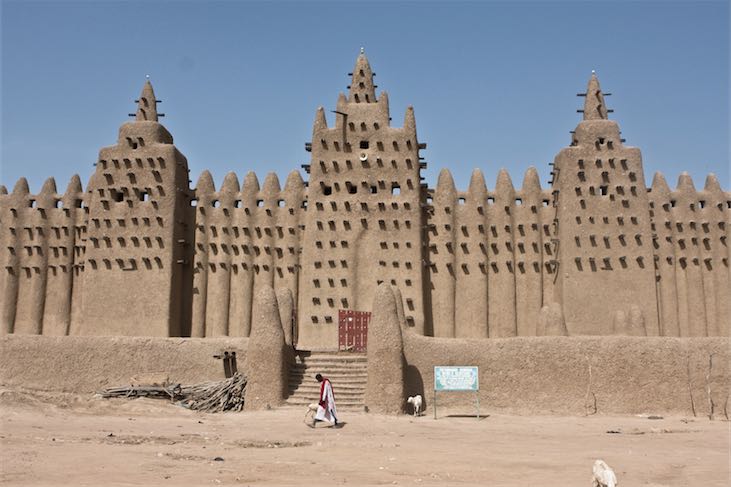 Photo of the Great Mosque of Djenné (made of mud), Mali, Africa, by JM, Creative Commons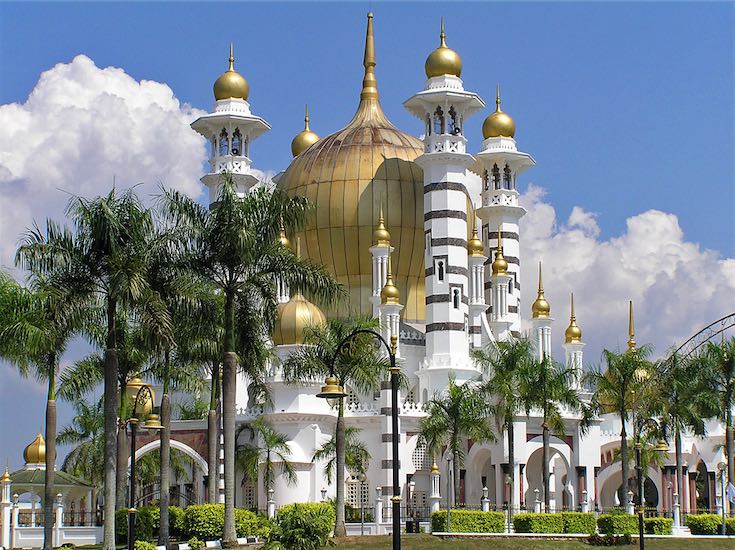 Photo of Masjid Ubudiah Mosque, Malaysia, Indo-Saracenic Revival architecture (also known as Indo-Gothic, Hindoo or Hindu-Gothic, Mughal-Gothic, Neo-Mugha architecture), by Richard Pluck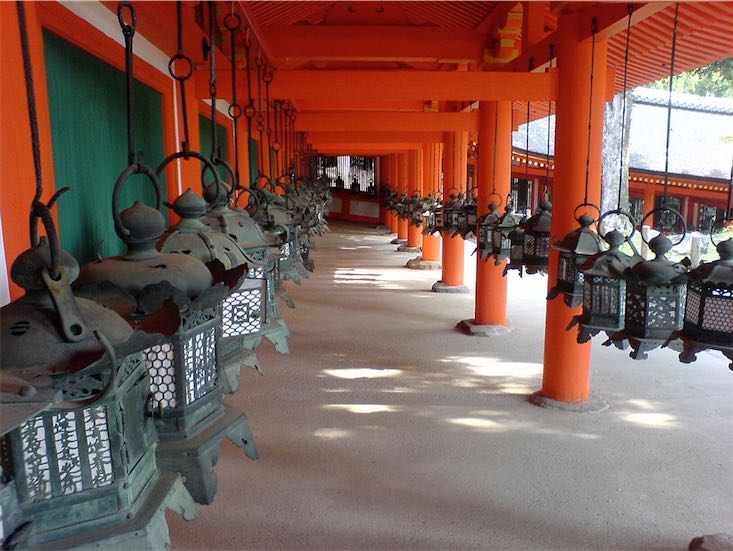 Photo of a temple in Nara, Japan, by derdino, Creative Commons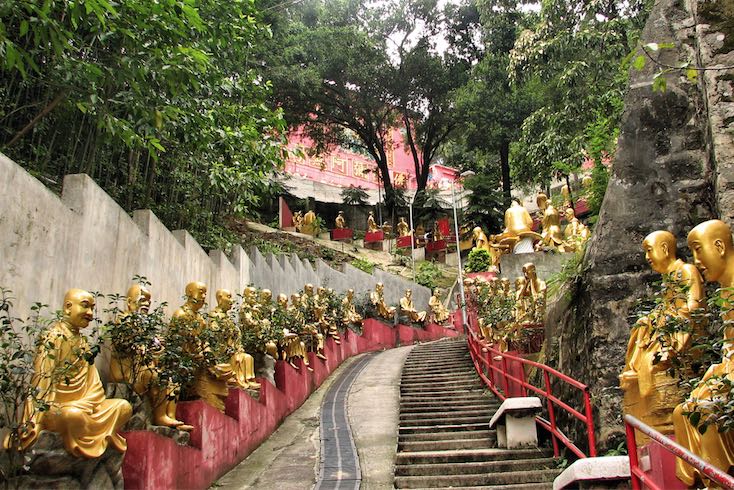 Photo of 10,000 Buddhas Monastery, Hong Kong, by Peter PZ, Creative Commons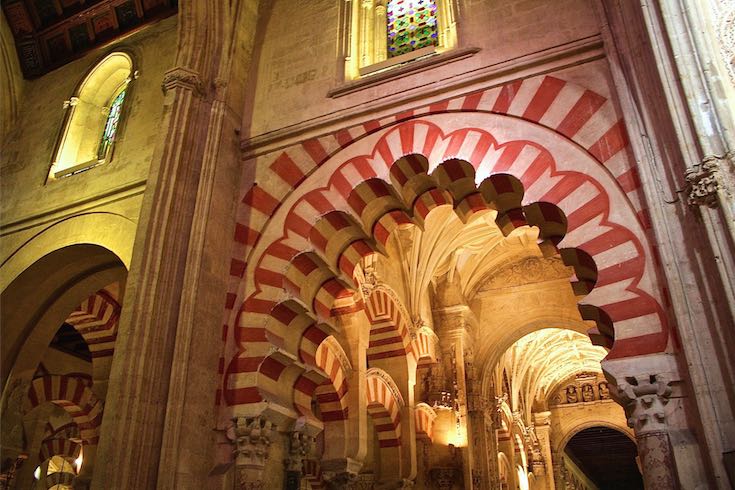 Photo of the Great Mosque of Córdoba and Cathedral of Our Lady of the Assumption, by Trevor Huxham, Creative Commons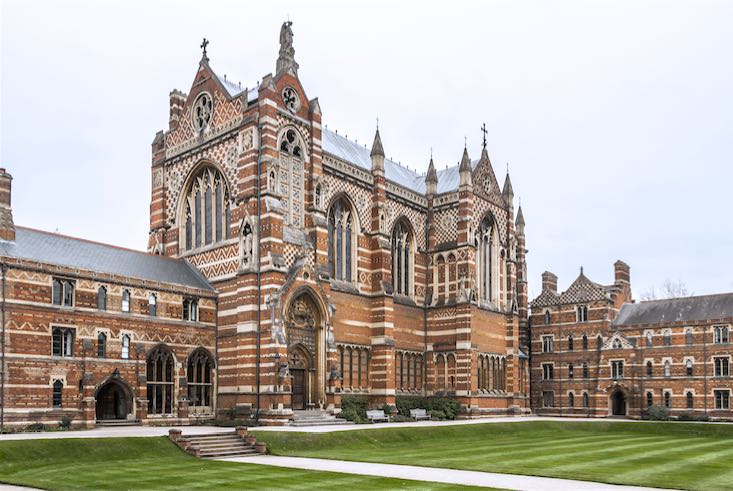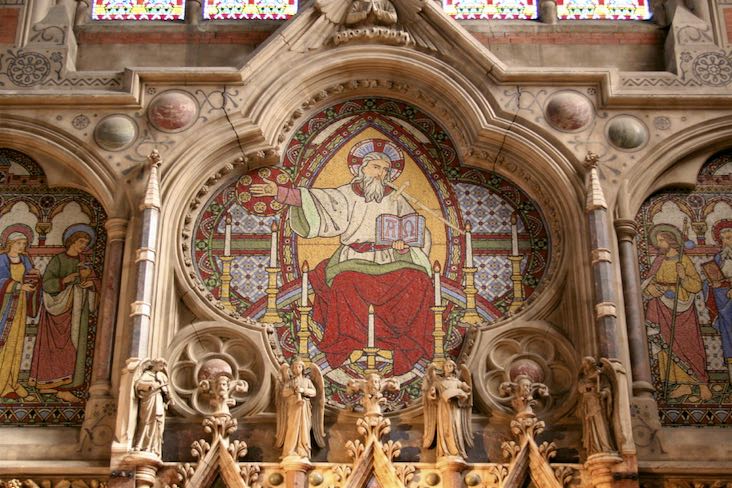 Photo of Keble College chapel, Oxford, London, Victorian Gothic architecture, by David Nicholls, Creative Commons
Photo of interior of Keble College chapel, Oxford, London, by Holly Hayes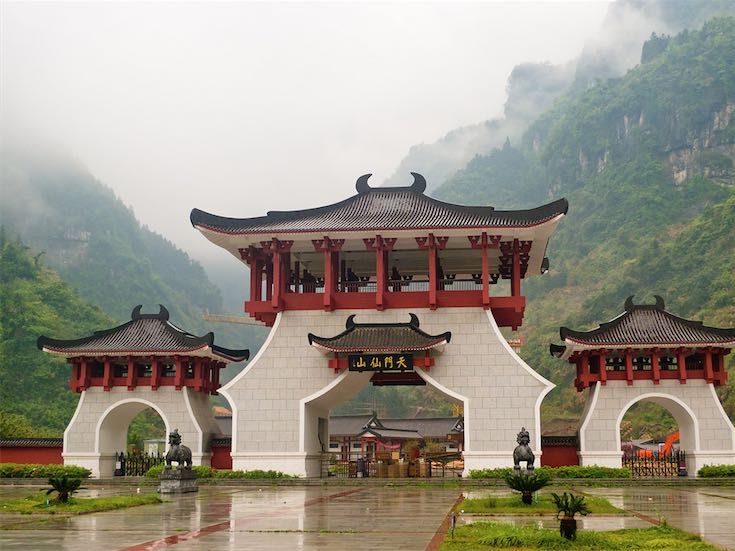 Photo of Tianmen Tourist Center, China, by Quentin Scouflaire, Creative Commons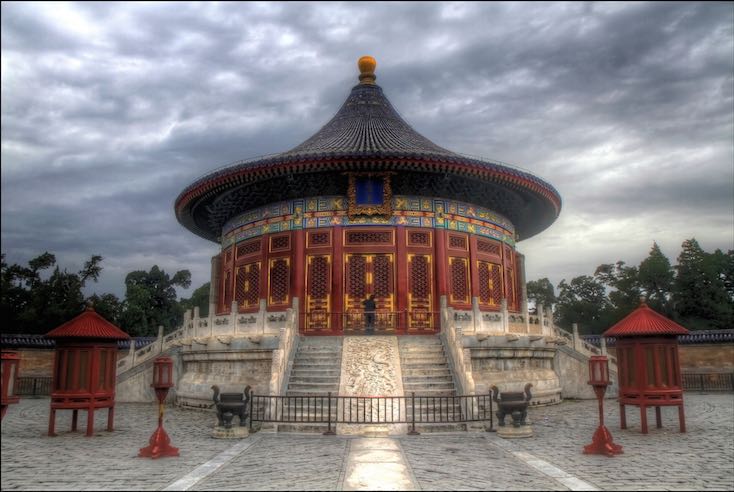 Photo of the Imperial Vault of Heaven at the Temple of Heaven complex, a UNESCO World Heritage architectural masterpiece, Beijing, China, medieval Chinese architecture, by Lip Jin Lee, Creative Commons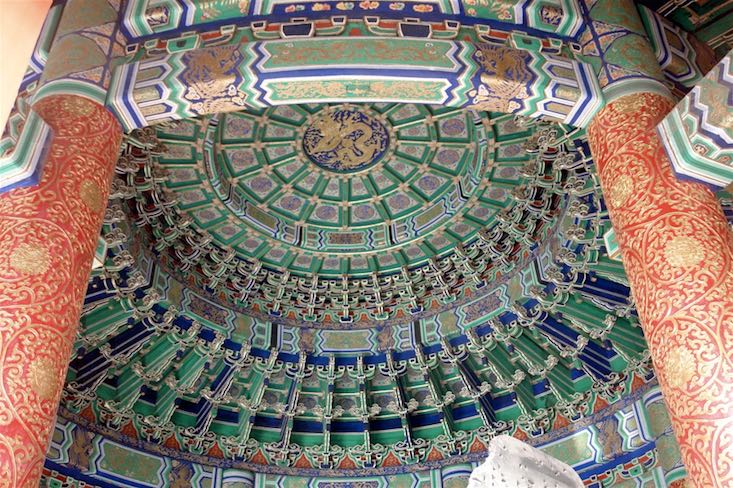 Photo of the ceiling of the Imperial Vault of Heaven at the Temple of Heaven complex by J Aaron Farr, Creative Commons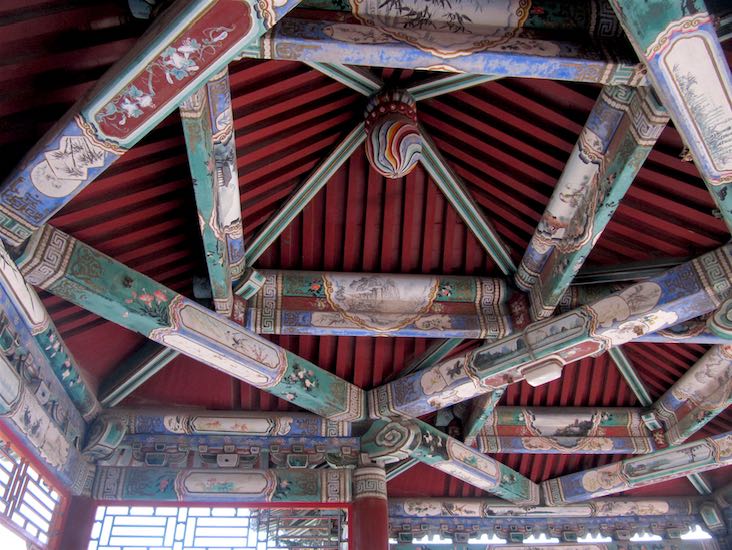 Photo of the ceiling of the Fangshen Pavillion at the Temple of Heaven complex, Beijing, China, by i a walsh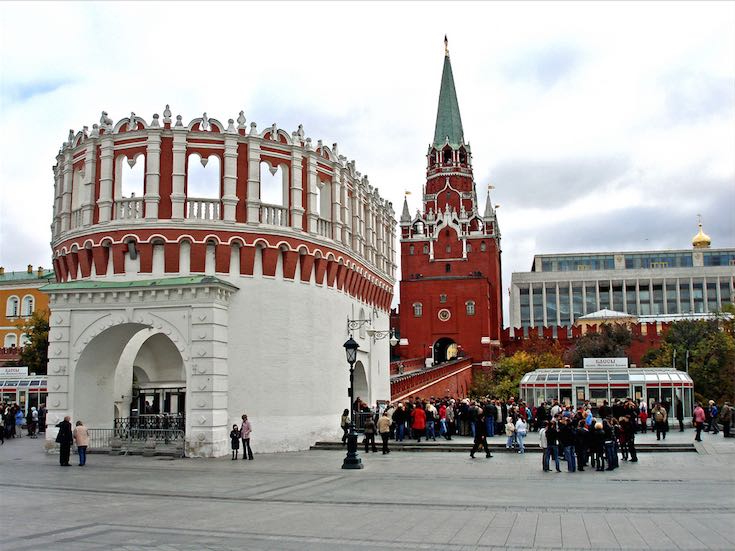 Photo of Kutafia Tower, Moscow, Russia, Renaissance architecture, by Dennis Jarvis, Creative Commons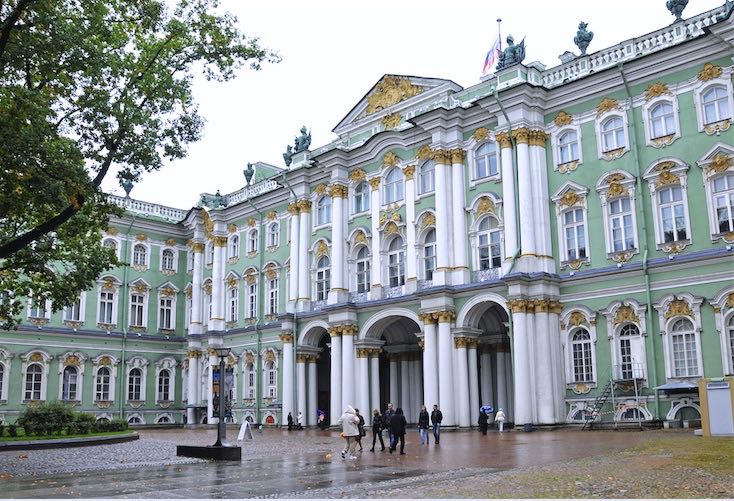 Photo of Hermitage and Winter Palace (official residence of Russian monarchs now Imperial Hermitage Museum), St. Petersburg, Russia, Elizabethan Baroque architecture, by Dennis Jarvis
"The Winter Palace has been calculated to contain 1,786 doors, 1,945 windows, 1,500 rooms and 117 staircases." Wikipedia.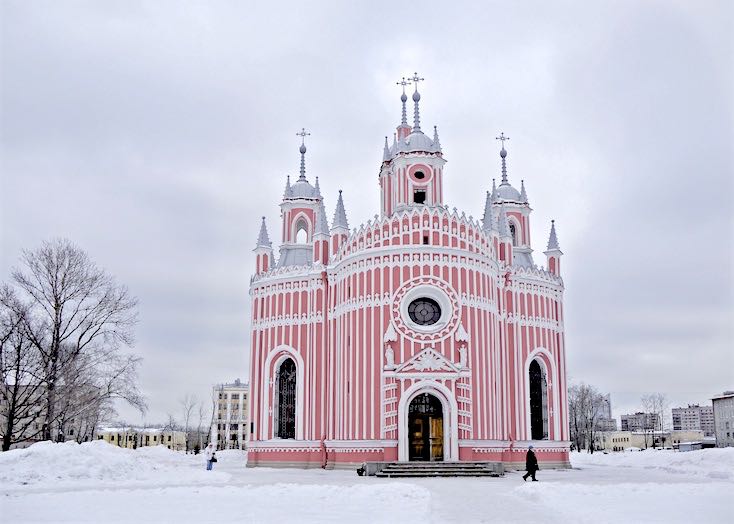 Photo of Chesme Church, Russia, Gothic Revival architecture, by Fotorus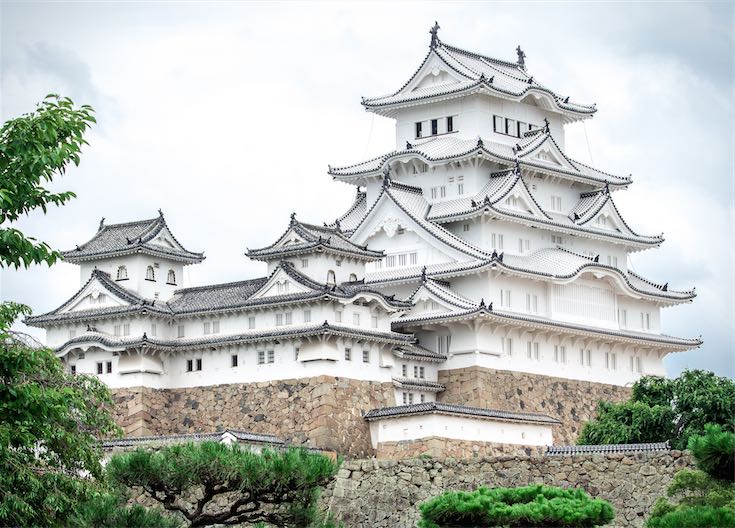 Photo of Himeji "the White Heron" Castle, a samuria fortress, Japan, by Albert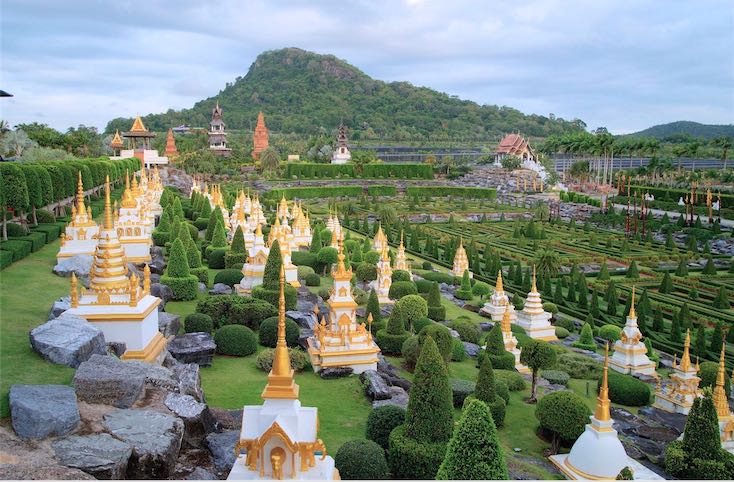 Photo of a temple in Thailand, by Trey Ratcliff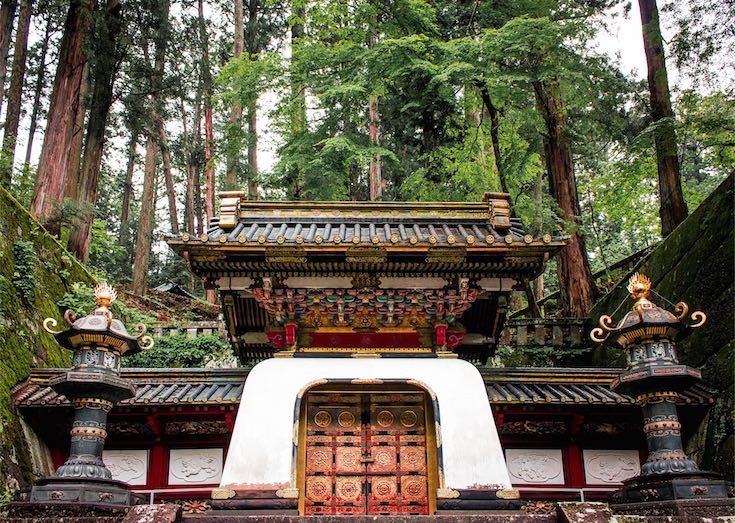 Photo of Taiyuin Byō Shrine, Japan, by Albert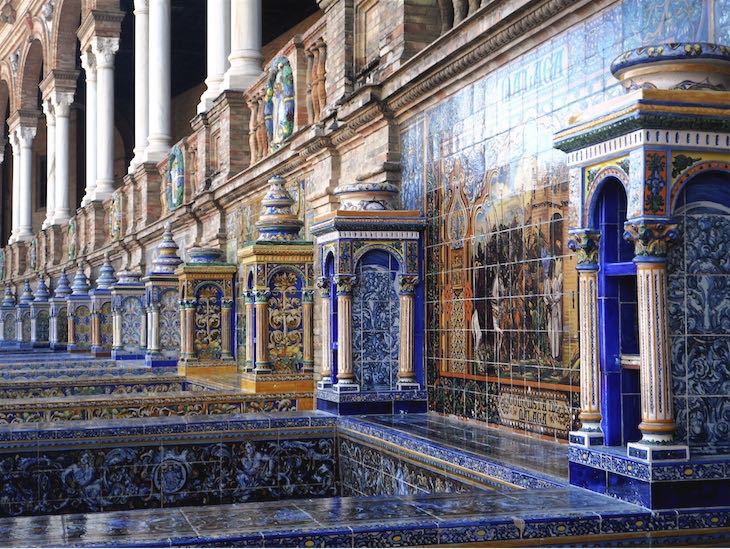 Photo of Plaza de España in Seville, Spain, by Giulia Cattoni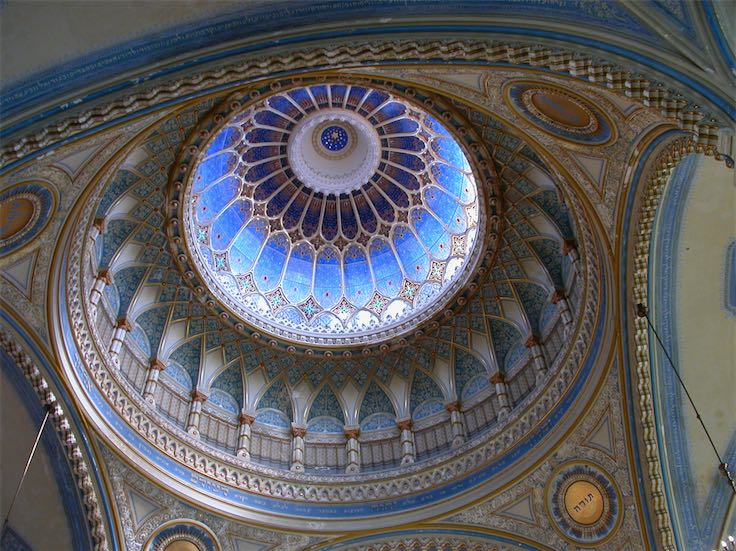 Photo of dome of New Synagogue in Szeged, Hungary, by Tim Waters
Photo of Küçüksu Palace, Istanbul, Turkey, Neo-Baroque architecture, by Moody Man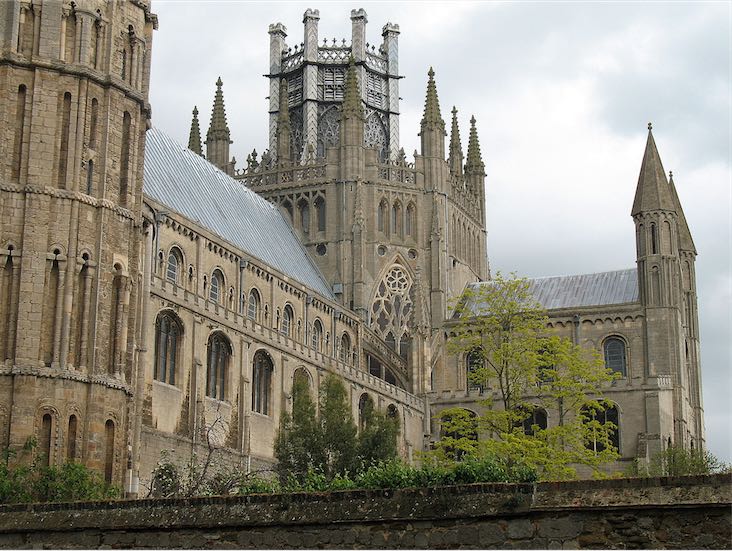 Photo of Ely Cathedral, Cambridgeshire, England, Norman and Decorated Gothic architecture, by Spencer Means, Creative Commons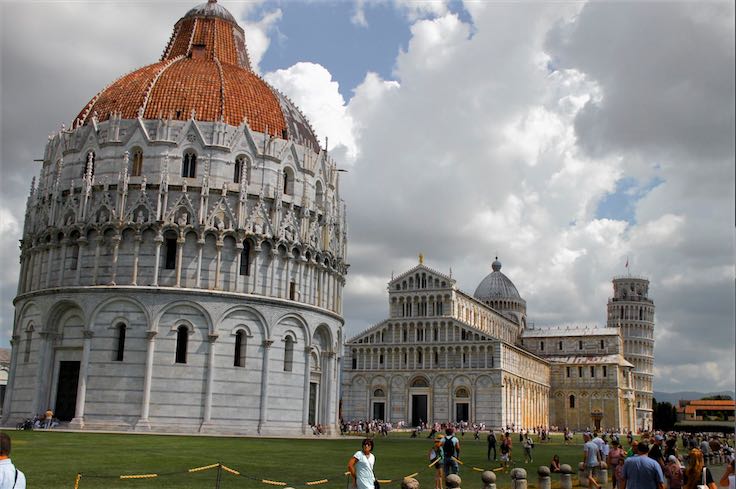 Photo of Pisa Baptistry, Monumental Cemetery and the Leaning Tower of Pisa, Italy, Romanesque architecture, by kristobalite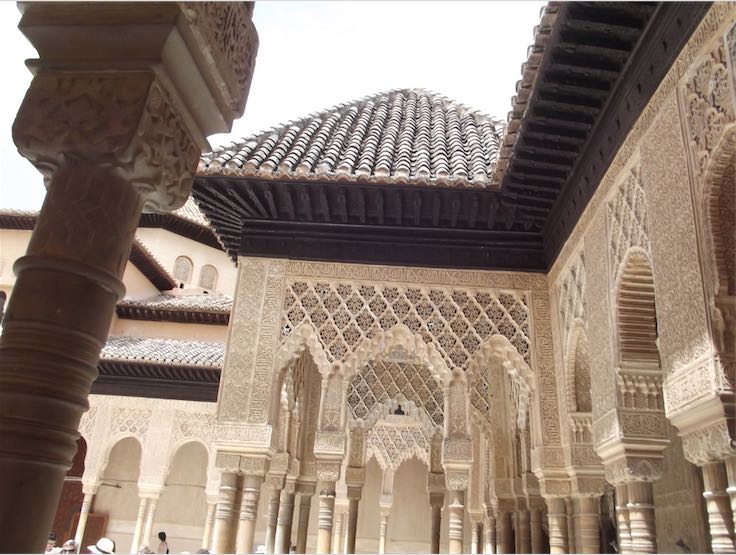 Photo of arches in the Court of Lions of the Alhambra complex, Granada, Spain, Moorish architecture, by Elliott Browm Marks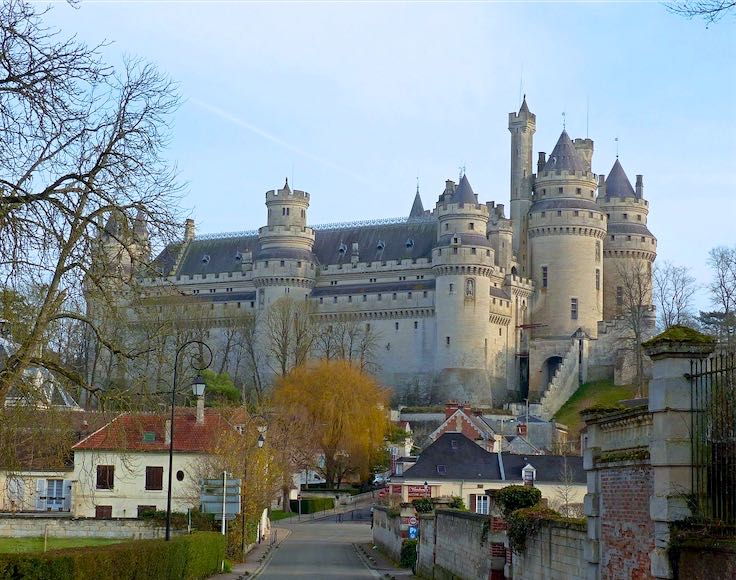 Photo of Chateau de Pierrefonds, France, medieval castle architecture, by Vever Herve, Creative Commons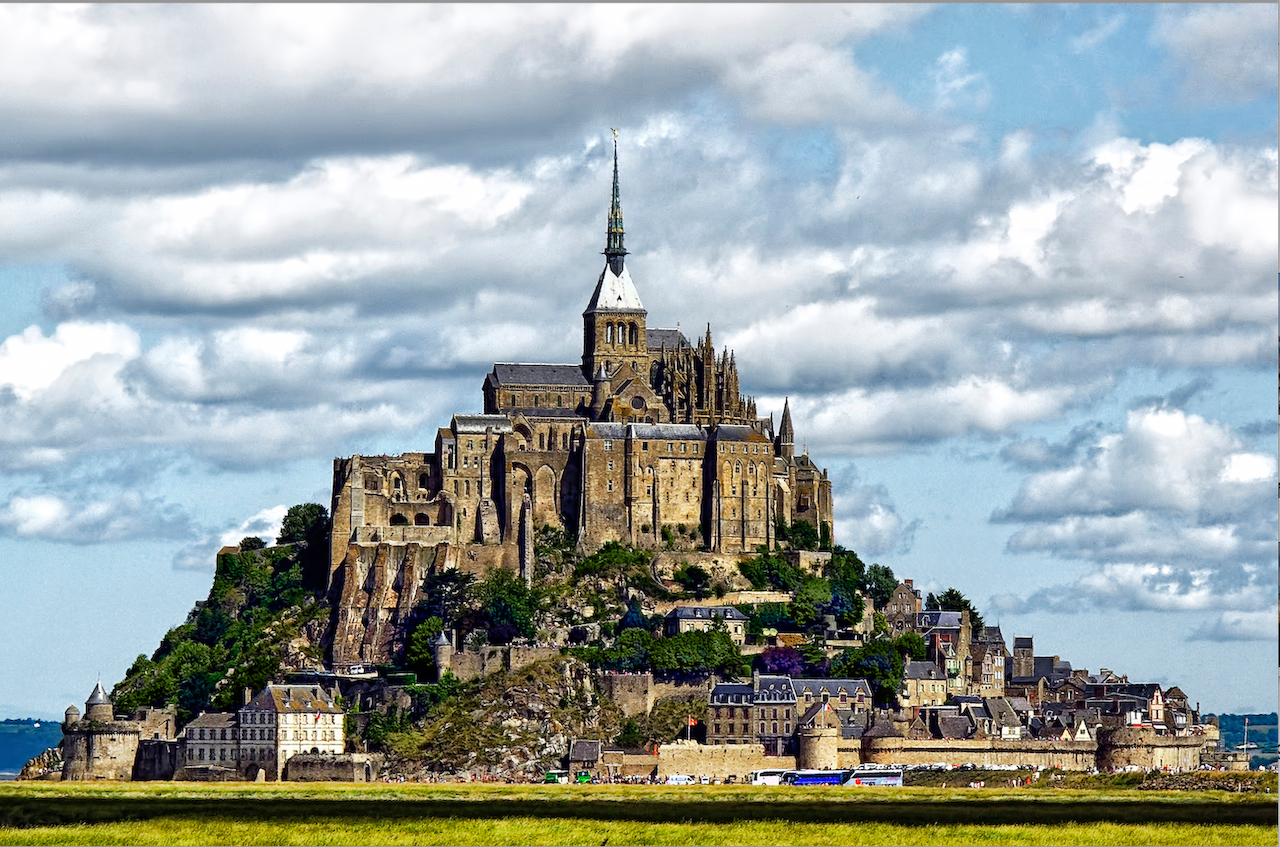 Photo of Mont-Saint-Michel, Normandy, France, Gothic and Romanesque architecture, by Miquel Fabre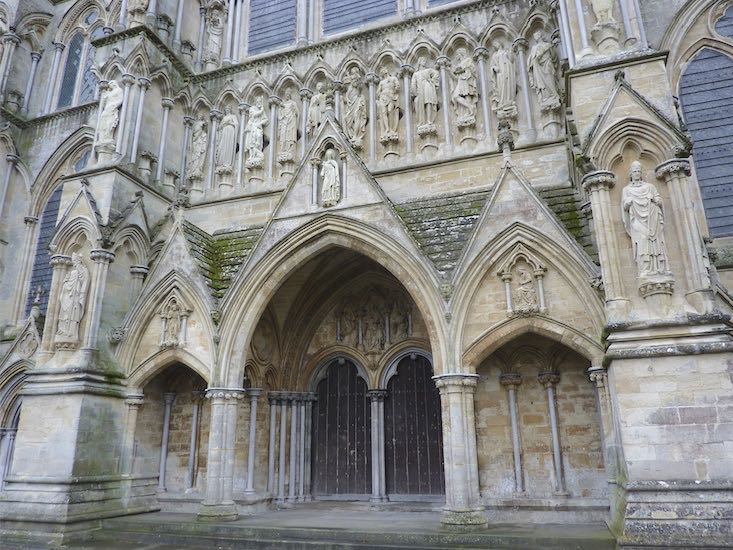 Photo of Salisbury Cathedral, England, English Gothic architecture, by Beth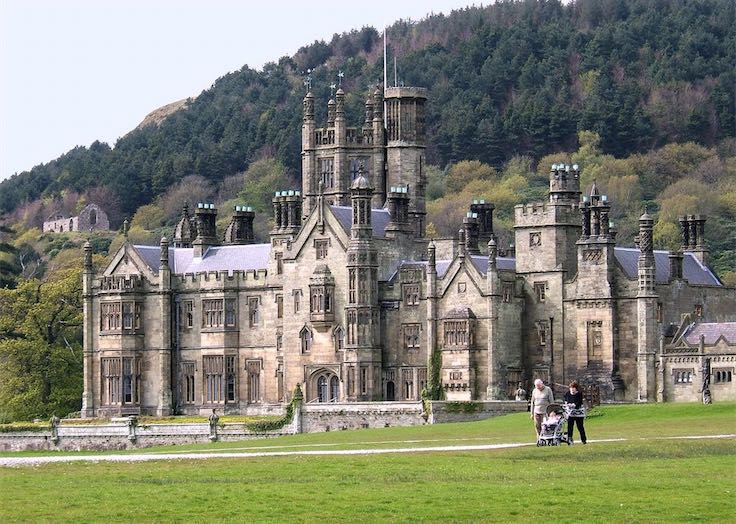 Photo of Margam Castle, Wales, a Tudor-Gothic mansion, by John Sheldon
Photo of the Koppelpoort, a medieval gate, Amersfoort, Netherlands, by zen whisk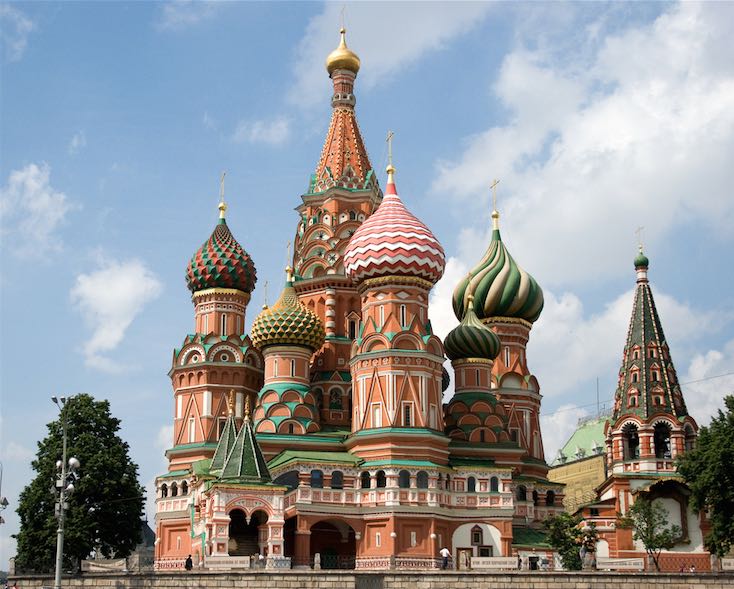 Photo of Saint Basil's Cathedral, Moscow, Russia, unknown architecture, by Kate Brady, Creative Commons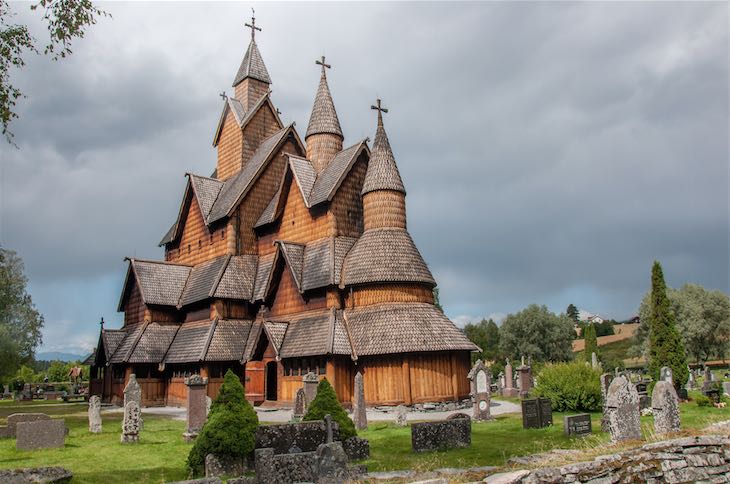 Photo of Heddal Stave Churck, Norway, by L.C. Nøttaasen, Creative Commons
A stave church is a medieval wooden church once common in north-western Europe.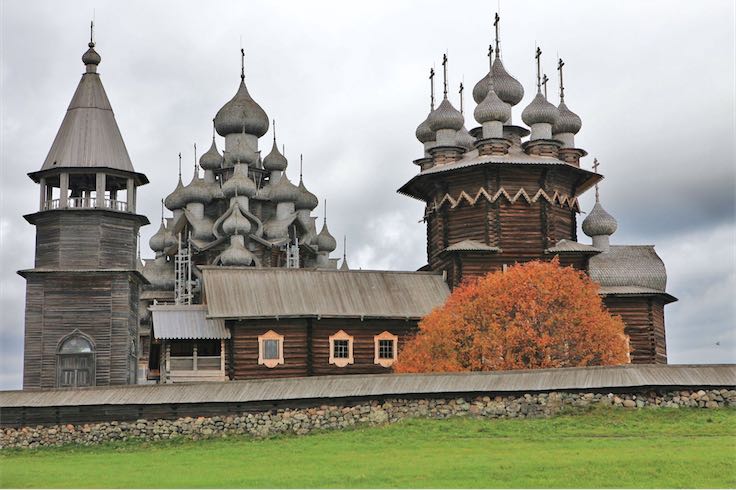 Photo of Church of Transfiguration (22 onion domes) and Intercession Church (9 onion domes), Kizhi Island, Russia, by Ninara
These two churches are made entirely of wood and not a single nail.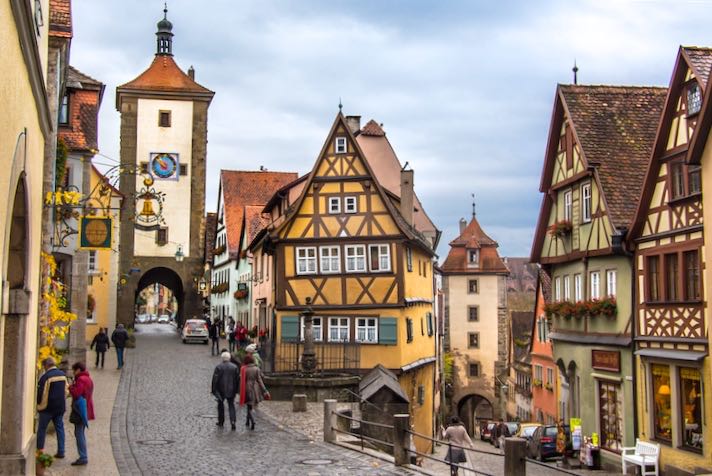 Photo of Rothenburg ob der Tauber, Germany, medieval architecture, by Luftphilia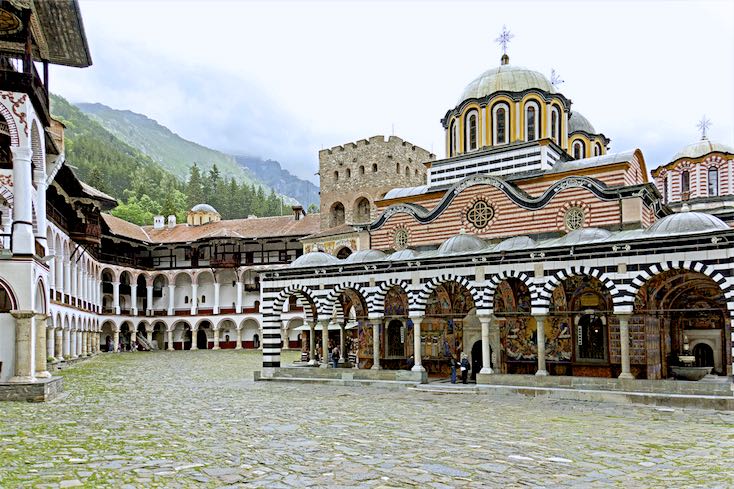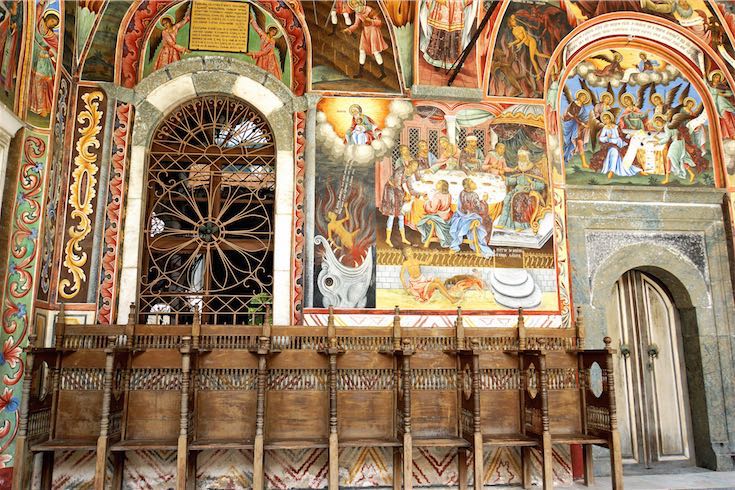 Photo of Rila Monastery, Bulgaria, a revival Bulgarian national style architecture, by Dennis Jarvis
Photo of the art of Rila Monastery by Dennis Jarvis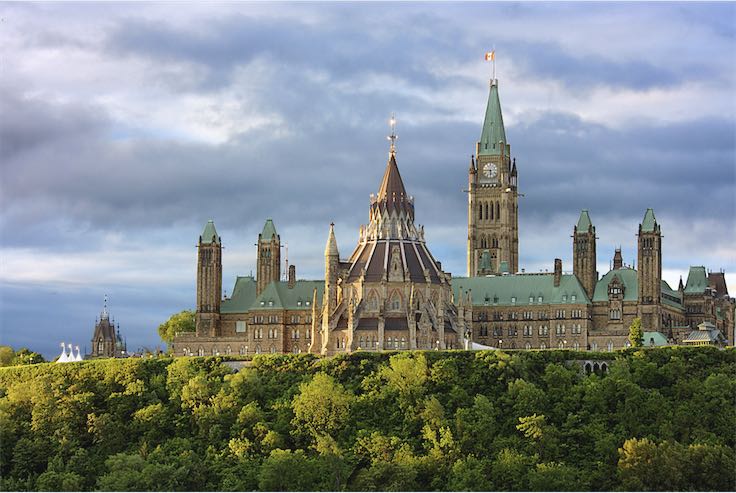 Photo of Canadian Parliament Buildings, Quebec, Canada, Gothic Revival, by Glenn Euloth, Creative Commons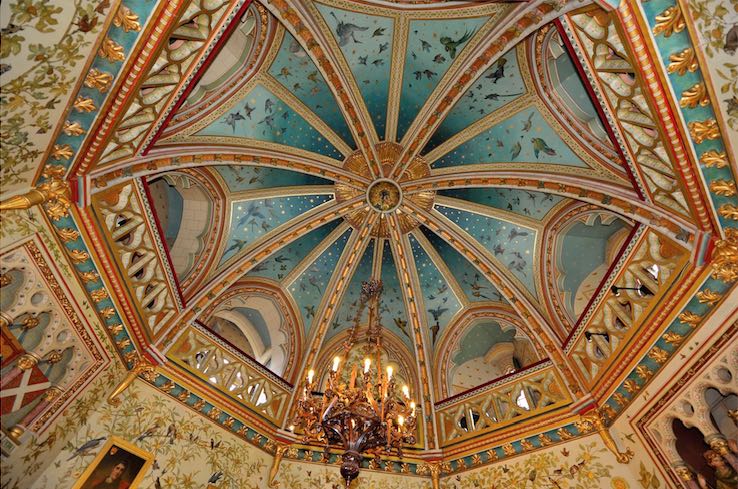 Photo of bedroom ceiling in Castell Coch, Wales, by Owen Mathias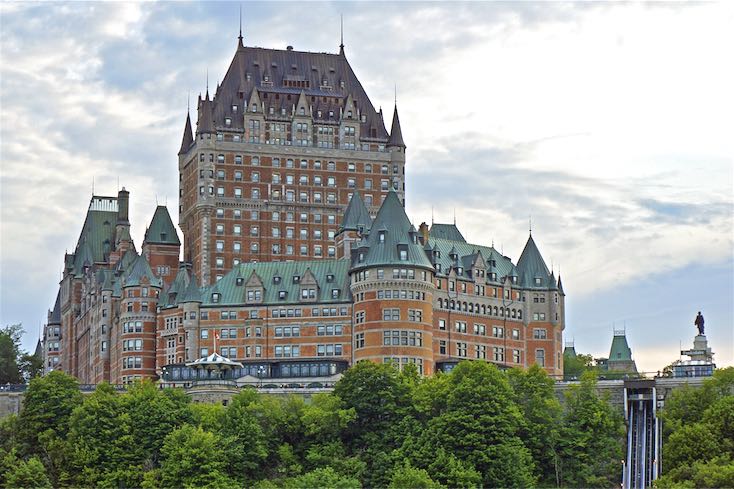 Photo of Chateau Frontenac, Quebec, Canada, drawing on the architectural styles of the Middle Ages and the Renaissance, by Steve Boland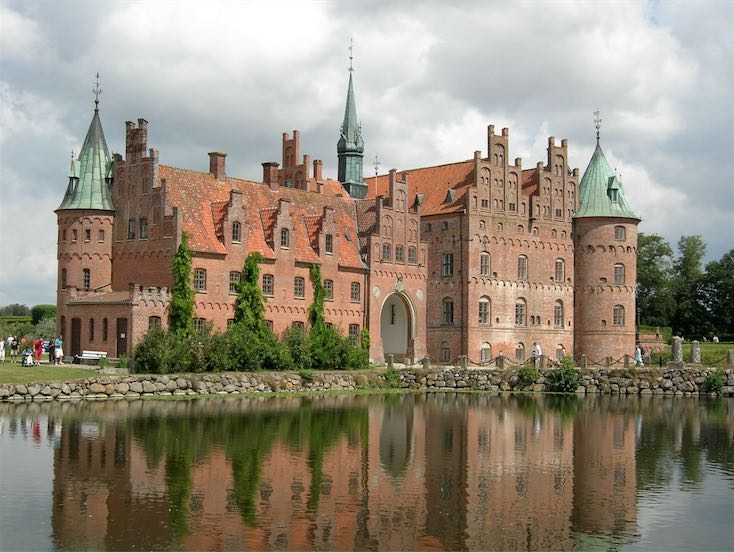 Photo of Egeskov Castle, Funen, Denmark, Renaissance water castle, by drmama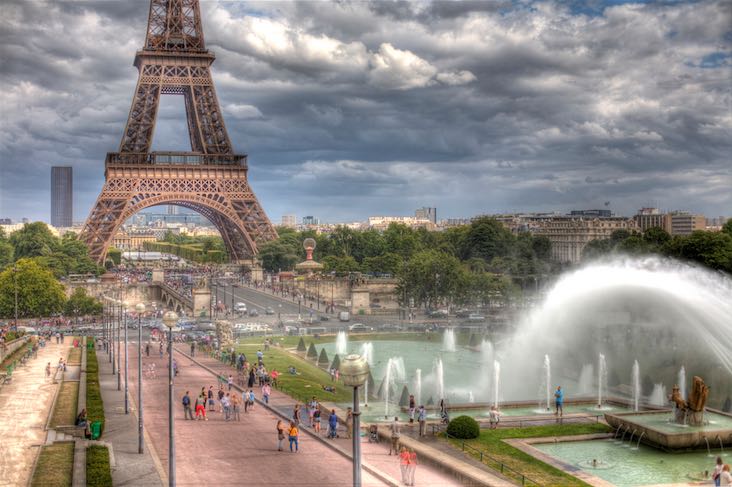 Photo of Eiffel Tower, Paris, Machine Age architecture, by Nicki Dugan Pogue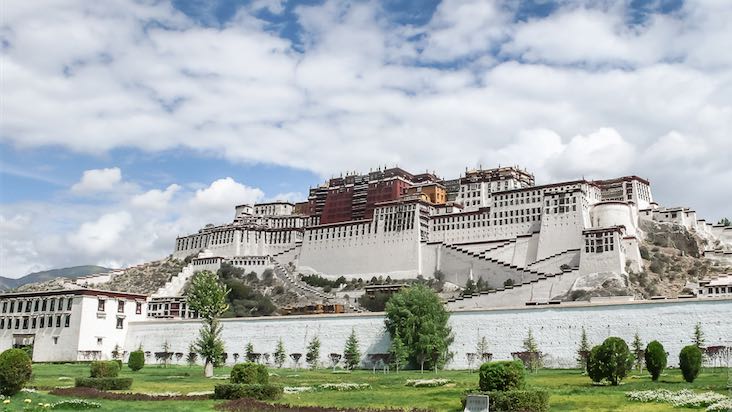 Photo of Potala Palace, Tibet, by Lain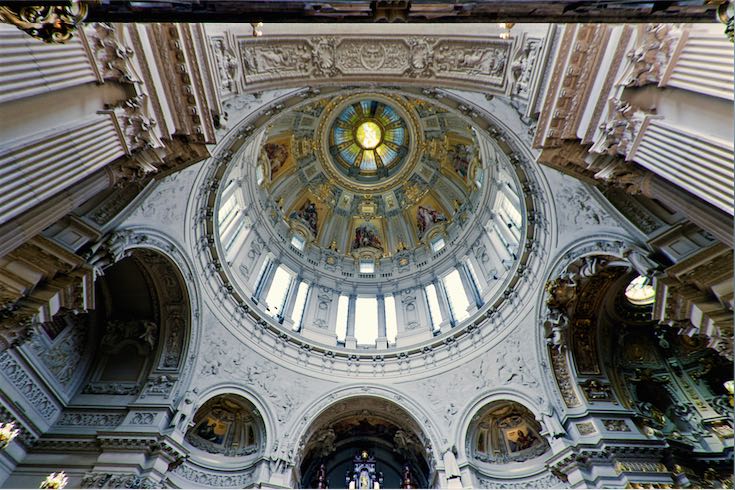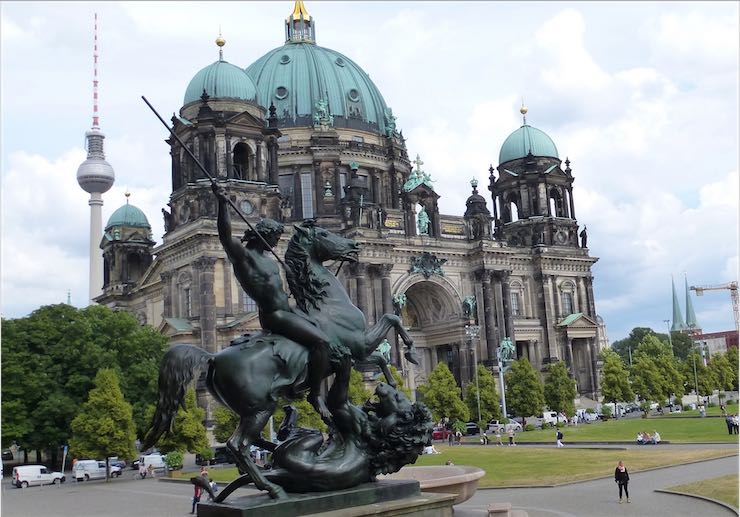 Photo of Berliner Dom of Berlin Cathedral, Germany, by Isabel Feist, Creative Commons
Photo of the Lion Fighter sculpture and Berlin Cathedral by Ali Eminov
Architectural style Renaissance (until 1538), Brick Gothic (1538-1747), Baroque (1747-1817/1822), Neo-Renaissance (since 1905)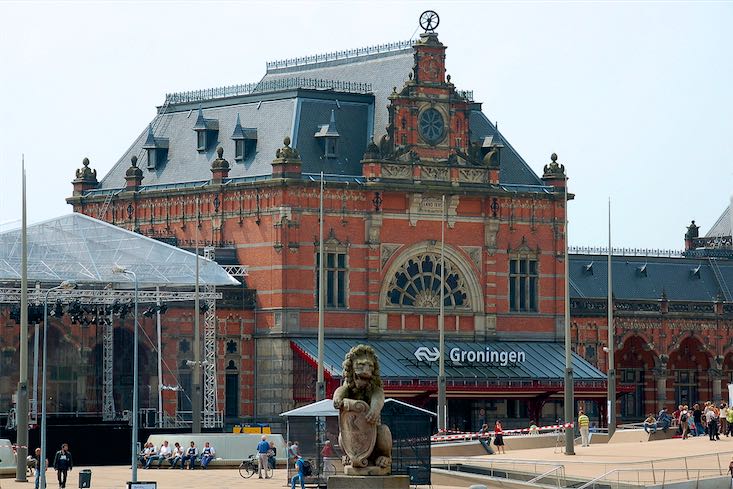 Photo of Groningen railway station, Netherlands, Neo-Gothic, Neo-Renaissance architecture, by James Stringer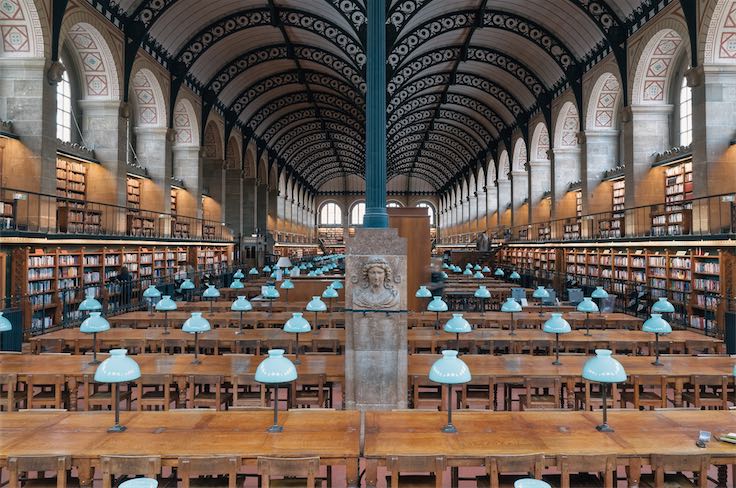 Photo of Library of Sainte Genevieve, Paris, Machine Age architecture, by victortsu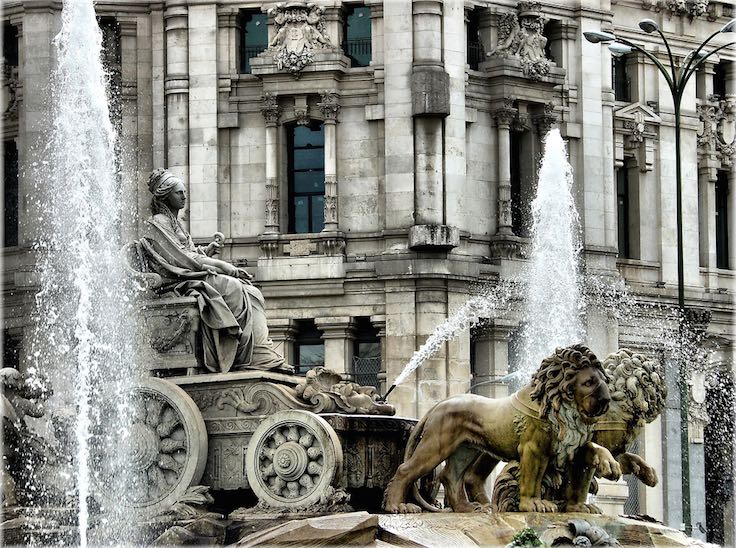 Photo of Fountain of Cibeles, Madrid, Spain, Neo-Classical architecture, by Jose Luis Ceradas Iglesias, Creative Commons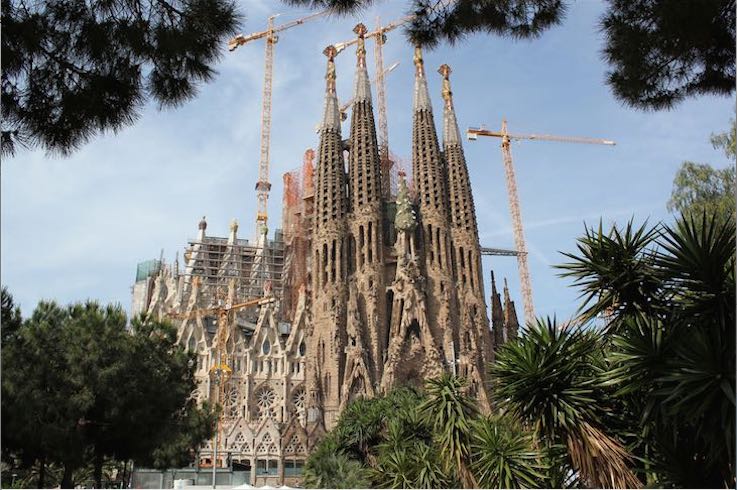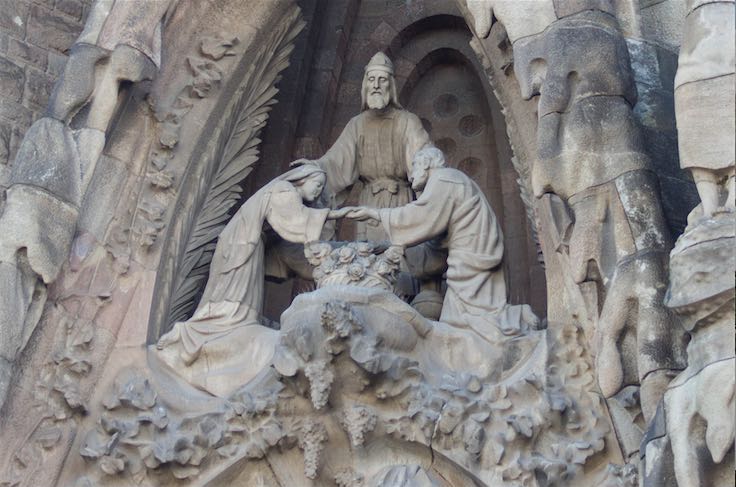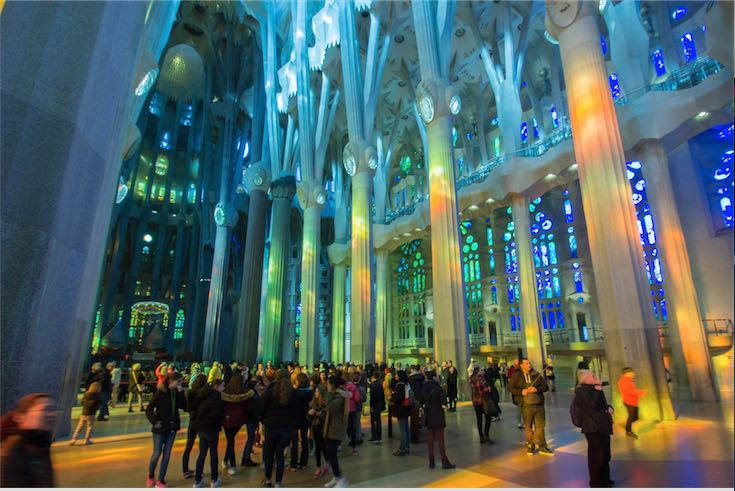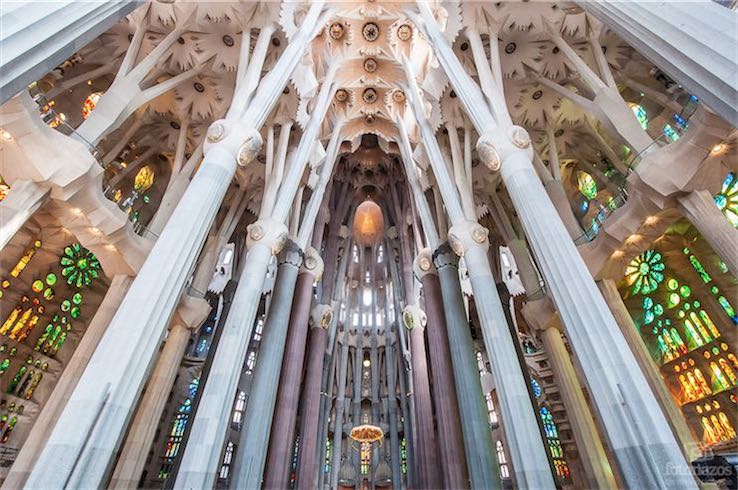 Photo of Sagrada Familia, Barcelona, Spain, whimsical Italian Neo-Gothic architecture, by Mathieu Marquer, Creative Commons
Photo of facade of Sagrada Familia by Derek Winterburn, Creative Commons
Photo of inside Sagrada Familia by Derek Winterburn, Creative Commons
Photo of inside the Sagrada Familia by Jesús Pérez Pacheco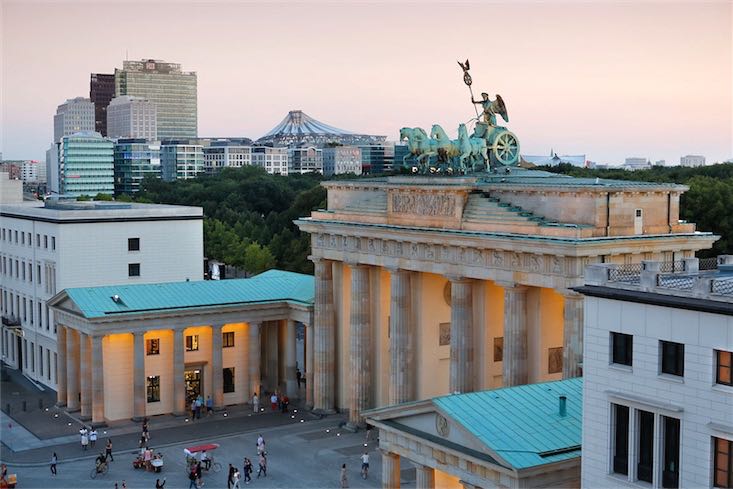 Photo of Brandenburg Gate, Berlin, Germany, by visitBerlin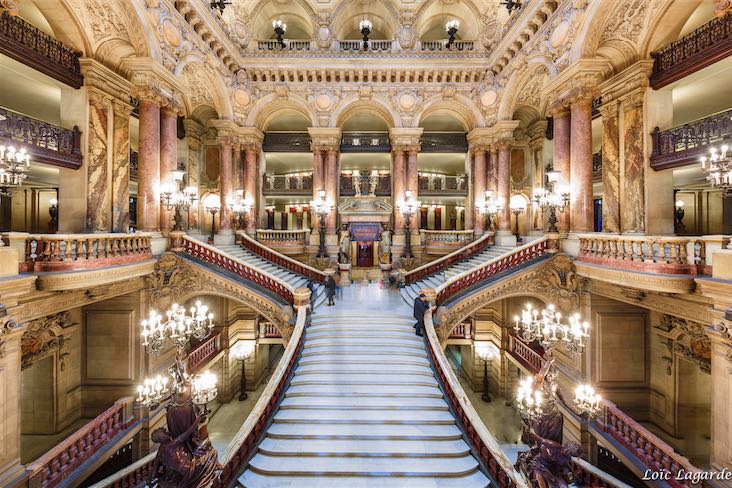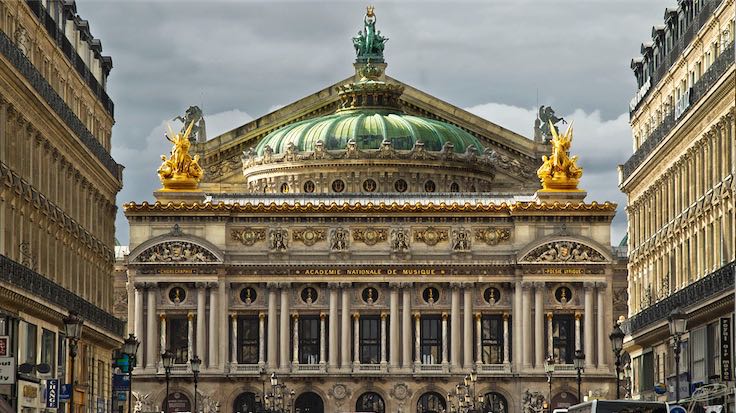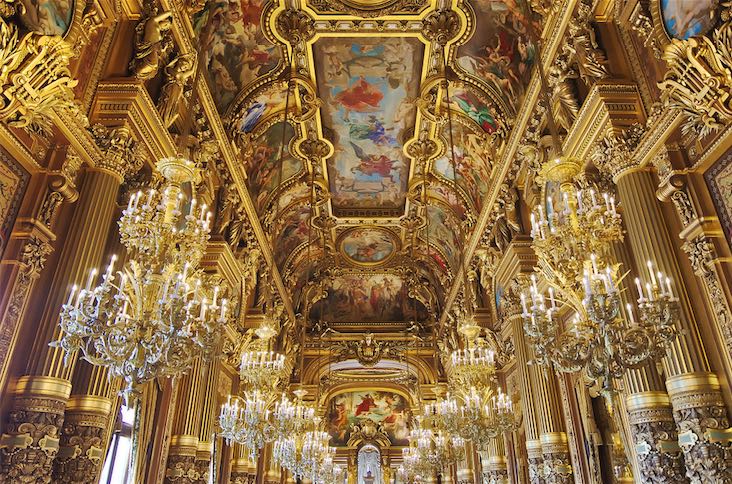 Photo of Academie Nationale de Musique, the Garnier Paris Opera, "Le Palais Garnier," Neo-Baroque architecture, by Loïc Lagarde
Photo of Academie Nationale de Musique, the Garnier Paris Opera, "Le Palais Garnier," by Jesus del Toro Garcia
Photo of Academie Nationale de Musique, the Garnier Paris Opera,"Le Palais Garnier," by Daniel Parks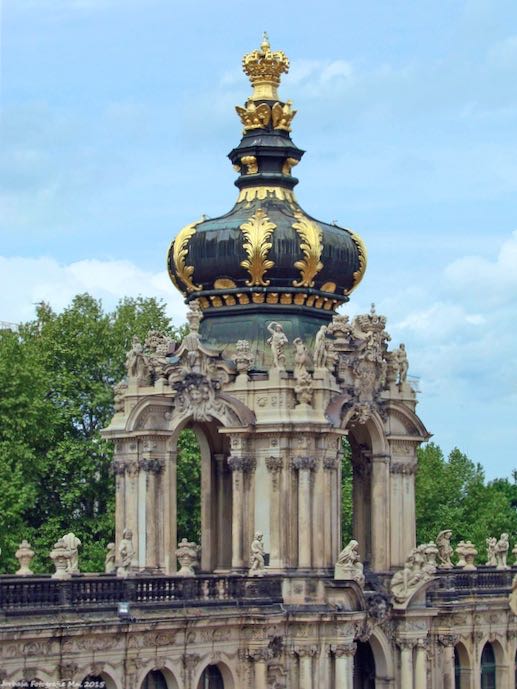 Photo of Zwinger, Dresden, Germany, by Jorbasa Fotografie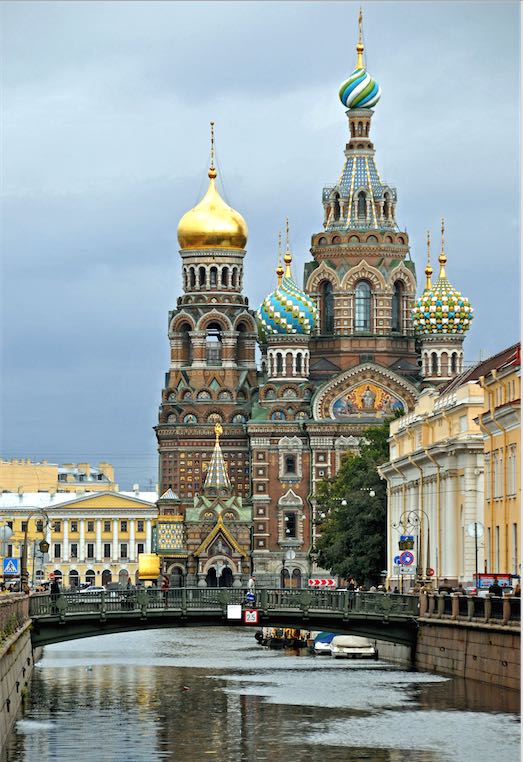 Photo of Church of the Savior on Spilled Blood, Russia, by Dennis Jarvis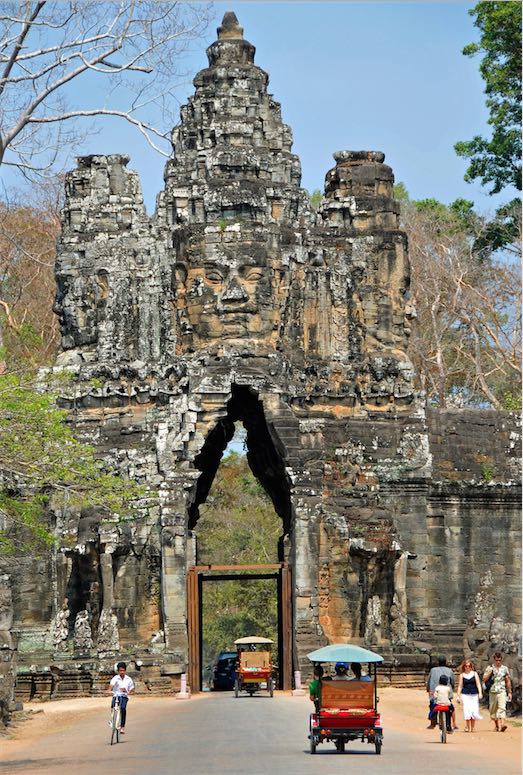 Photo of Angkor Thom, Cambodia, by Dennis Jarvis
Photo of Louvre Palace, French Renaissance architecture, by Frank Reyes, Creative Commons